Visiting Watkins Glen State Park reminded us of visiting an amusement park; super crowded and tourists everywhere. With that being said, Watkins Glen State Park is an absolute must-seek that you should add to your bucket list, especially if you're on the east coast! Since our last visit, let us share some tips regarding the best time to go, weather,  what you're going to see, and where you might consider staying.
As a quick background, Watkins Glen is the most famous of the Finger Lakes State Park. It consists of a 2.4-mile loop hike that exposes you to an incredible 19 waterfalls. The Gorge and Indian Trail are the two main ones you'll come across at Watkins Glen but you're going to want to take the Gorge Trail if you want to have a front-row seat to all of the waterfalls. However, if you have a pet, you're going to only be allowed on the Indian Trail, so be wary!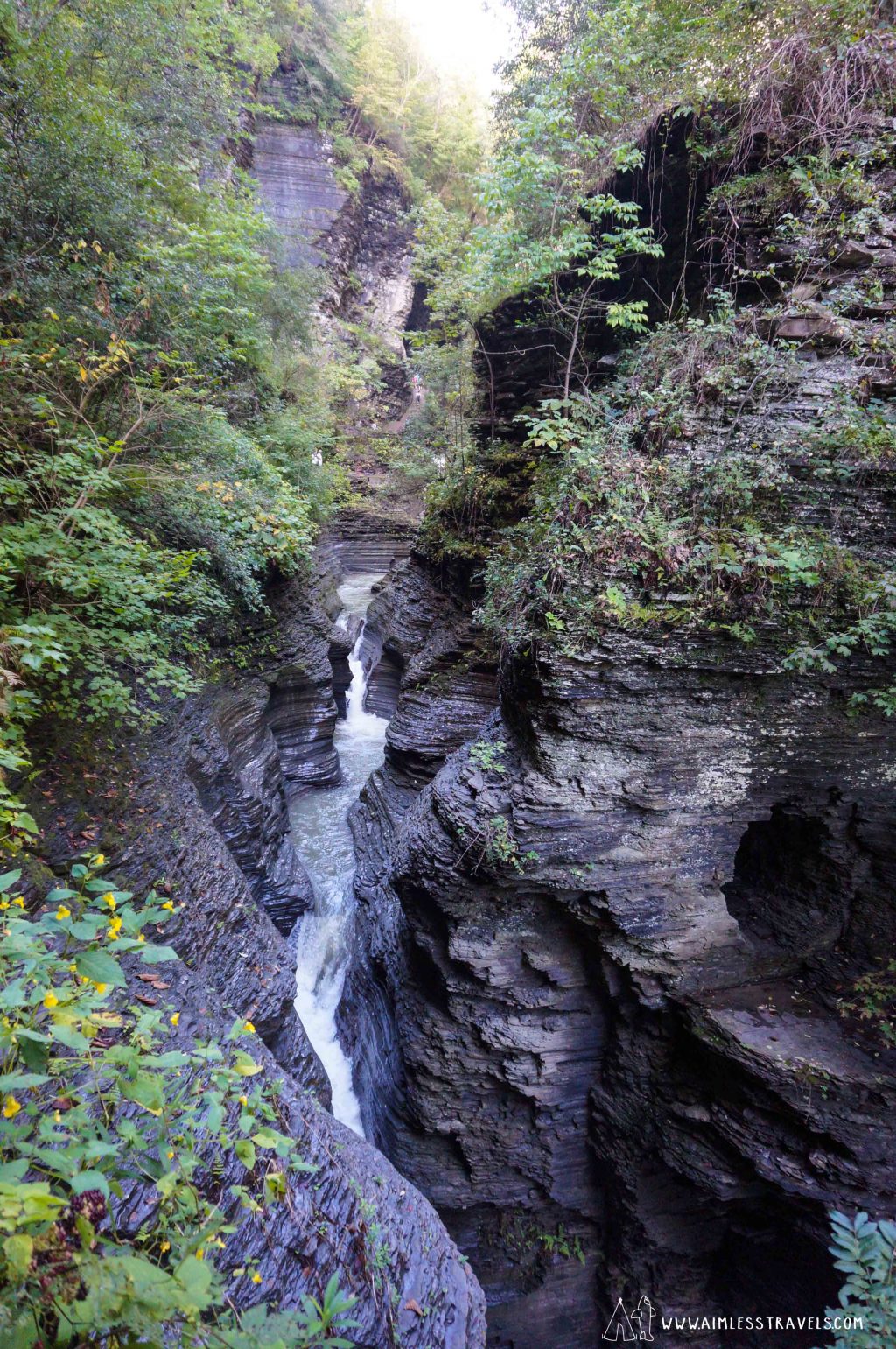 How to Avoid Those Amusement Park Crowds
The peak season for Watkins Glen State Park is definitely in the summer, particularly between June and August. The summer season brings in large crowds throughout the day and especially on the weekends. We went in September and the gorge was still incredibly crowded on Saturday. We suggest going as early as you can on a weekday. Even on the weekends, try to get to the park by 8:30 am. This will help you avoid the crowds while also getting some really amazing (and crowd-free) shots!
Don't Forget to Look Up the Weather Near Watkins Glen State Park…
The State Park definitely gets more dangerous at certain parts of the year, which is why they implement so many barriers next to the gorge. Spring and Fall are really the best times to go due to their mild temperatures. With temperatures around 60 to 70 degrees, it'll be a comfortable hike for just about anyone. Furthermore, there's nothing quite as beautiful as seeing fall foliage! During the winter months, the Gorge Trail is often closed because the icy conditions are dangerous. However, you can still see most of the waterfalls and gorge on the Indian Trail. If you can handle the cold weather and possibly snow, we've heard it is worth the visit (especially because you'll barely see another person)!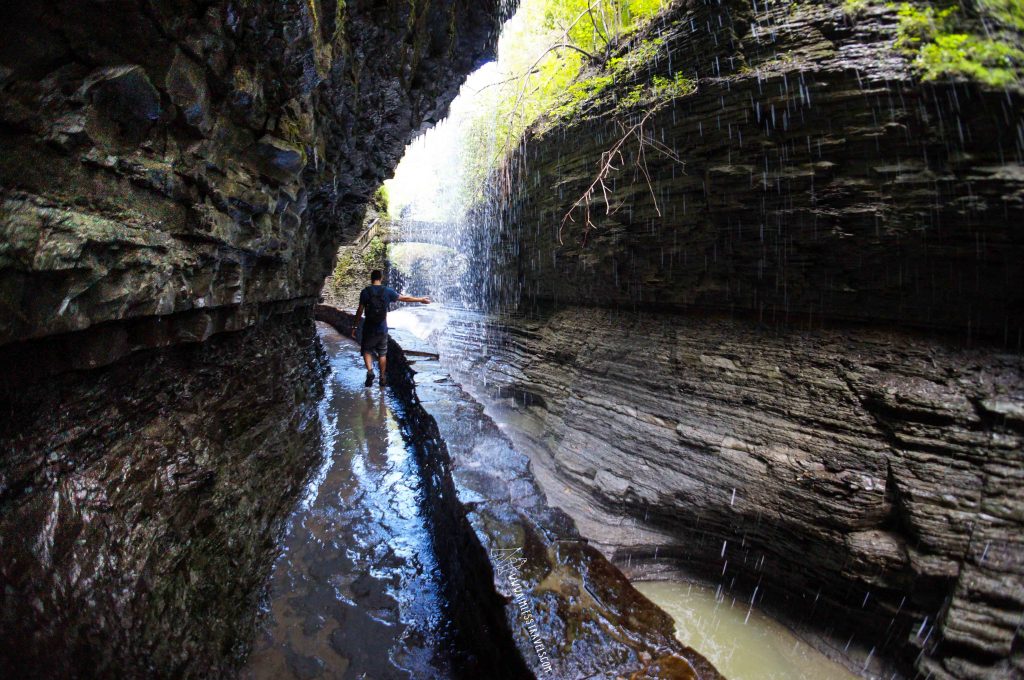 When Is Really the BEST time to go?
We'd definitely recommend going to Watkins Glen State Park when we did but during the weekdays. We got to the park by 8:30 am on a Saturday in late September and there were still a few people. But, it didn't get really crowded until later in the day. At that point, it got difficult to shoot pictures since there were bound to be people in every shot! Some other great, and less crowded, times to go May, June, and October.
How Long Should You Stay?
We would highly recommend staying for more than a day. It is about 4 hours and 17 minutes from New York City. Furthermore, there are a few other attractions around the area, including Montour Falls.
We love camping, so naturally, we'd suggest doing that depending on when you're visiting! We recently discovered this website, www.hipcamp.com,  that is basically like an Airbnb, but with…yes you guessed it…camping! The listings will fit any person's needs whether you're looking to stay in a tent on a nice piece of property, in a small cabin, or even really cool tiny homes or tree houses! It's a great website to have on the East Coast since the campsites aren't always as private.
If you're interested in using Hipcamp for your next camping trip, use our code AIMLESS-TRAVELS to get $10 off your first booking! During our stay, we stayed at ZiegenVine Homestead. Visit our ZiegenVine Homestead NY Campsite Review for all of the perks of this amazing site!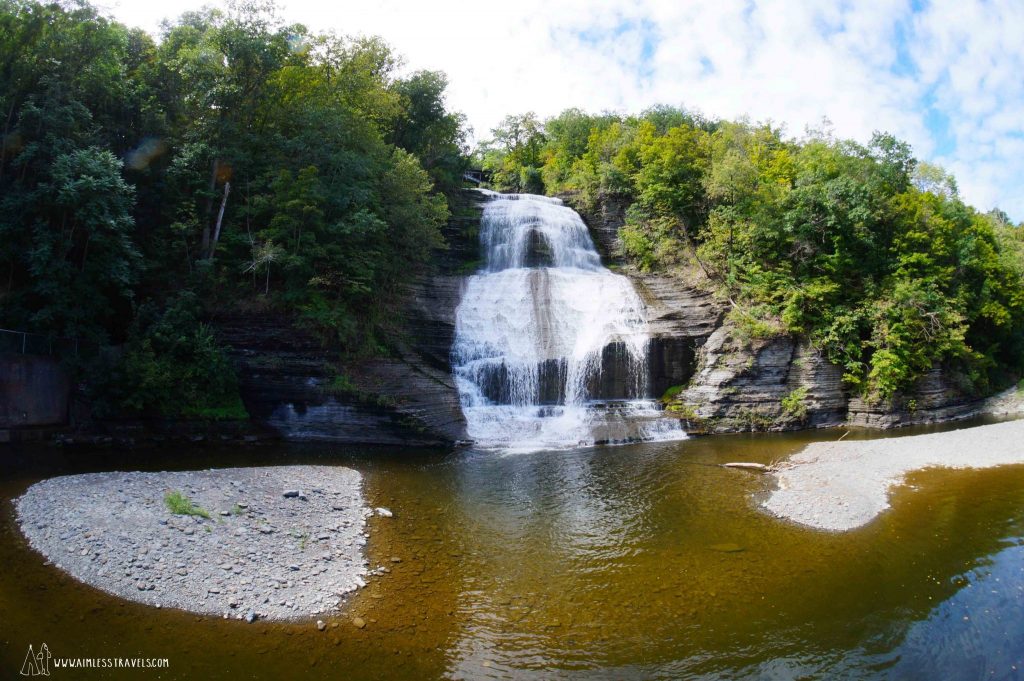 Our Review of Watkins Glen State Park, NY
The State Park was absolutely breathtaking and we're happy that we got to get some great content before the crowd came in. It wasn't a very challenging hike, besides the stairs that you consistently have to climb. Besides that, the travel was paved and had plenty of seating for us to take a break or just enjoy the view when needed. At one point, we were even able to get a little relief from the refreshing waterfall!