We've become total suckers for nice hot springs in Utah for a long soak. There's just something about finding a remote, crystal clear hot spring in the middle of Utah's beautiful wilderness that does wonders for your mind.
With every amazing, beautiful, and breathtaking hot spring comes a few…not so great ones. Which is why we decided to compile a list of some of our favorite hot springs in Utah. While we haven't visited every hot spring in Utah just yet, these are our most up-to-date favorites.
Still to this day, Meadows Hot Springs is our favorite natural hot spring in the United States. These 3 pools are located just south of Filmore, Utah. They offer a panoramic view of beautiful snow-capped mountain ranges and are accessible during all times of the year on private property. Luckily, the owner has graciously opened up his land to the public for a soak in the springs or a quick overnight pitstop. The 3 separate pools all differ in size, depth, and warmth. The warmest and closest pool to the parking lot is the clearest and deepest at about 30 feet. The 2 pools further away are also worth a visit if you like fish! Locals and visitors have thrown hundreds of tropical fish (yes, the kind you get at your local fish store!) into the less warm pools.
Cost: FREE
Coordinates: 38.8634354, -112.5062958
Distance: <0.5 miles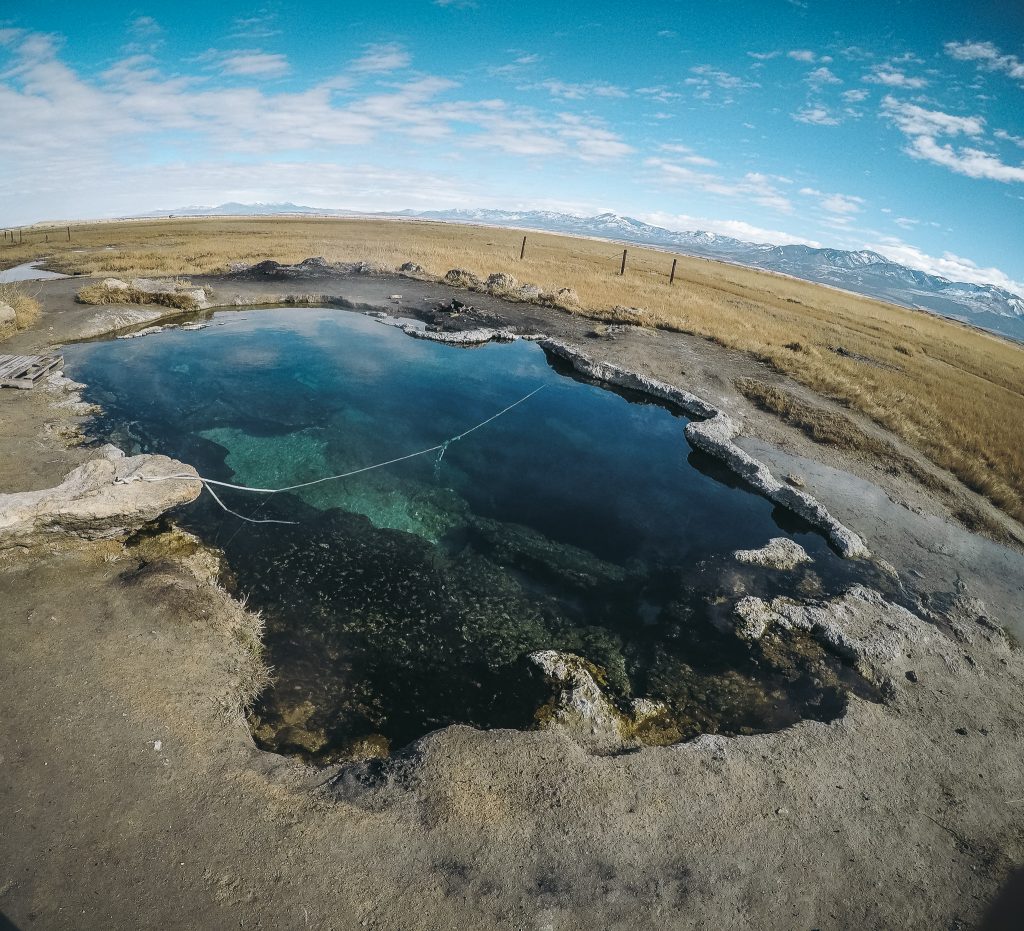 To read more about this amazing spot, check out our article: Freediving in Meadow Hot Springs
If you're into long hikes, especially during the winter, Fifth Water Hot Springs is well worth the visit. This was about a 5-mile hike roundtrip from the trailhead. During the winter, they block off the road to the trailhead so you'll have to add on another 2 miles to your roundtrip.
There are 3 waterfalls that you'll experience during this trail. The lower 2 waterfalls have the most breathtaking, crystal-clear water. While not as picturesque, the springs around the final waterfall are the warmest. This hike and the springs were heavily trafficked. If you don't mind crowds and the strong smell of sulfur, these hot springs near Salt Lake City offer some gorgeous views and a delightful soak during a cool day.
Do note: If you're planning to visit these hot springs in Utah during the winter, make sure to bring attachable cleats for your shoes. The trail gets really icy, regardless of the time of year.
Cost: FREE
Coordinates: 40.0845° N, 111.3550° W
Distance: 5 miles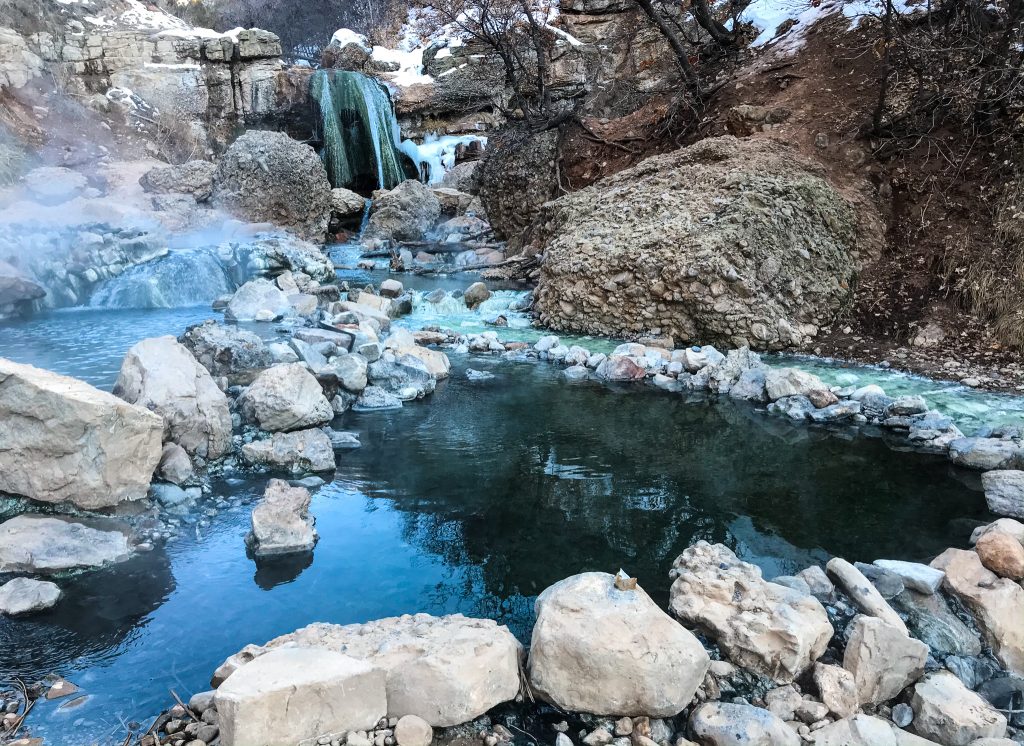 To read more about this amazing spot, check out our article: Guide to Utah's Fifth Water Hot Springs
#3: Mystic Hot Springs
Located in Monroe, Utah, the Mystic Hot Springs feature an assortment of bathtubs that are fed by natural hot springs. Coupled with the cabins and converted buses for lodging that is offered at the facility, the Mystic Hot Springs is a particularly interesting spot.
Unfortunately, this is the only hot spring on our list that is not free. To soak in these hot springs near Salt Lake City for up to 6 hours, it costs $15 per adult.
Cost: $15 per adult
Coordinates: 38.6338° N, 112.1085° W
Distance: <0.5 miles