Thunder Bay, Ontario is one of those spots in Canada that will keep you wanting to go back for years. There is just so much to do whether you love to site see explore nature. While we didn't get a chance to visit everywhere in the Thunder Bay area, here are some of the attractions that we recommend to anyone looking to have an awesome stay!
1. Have a Gouda Day at Thunder Oak Cheese Farm
A lot of the people in the country-side of Thunder Bay are actually Dutch. Thunder Oak Cheese Farm was the first Gouda cheese farm in Ontario and founded by the Schep family in 1995.
The farm features 13 different flavors of Gouda including mild, medium, old, and extra old aged choices. If cheese isn't your thing (I'd be surprised…because cheese is AMAZING), the store also carries a variety of Dutch import products including cookies, candy, spices, licorice, ceramics, and so much more.
Maybe we just love cheese and candy, but we had to go back to this store TWICE. We'd recommend the old and extra old aged gouda, as well as the soft candy's shaped like a mouse. They were SO good.
Location: 611 Boundary Drive, Thunder Bay, ON P7L 0C2
Hours: Monday to Saturday, 9:00am-5:00pm
Prices: Candy was about $1.25CAD per pound and the cheeses ranged in pricing between $6 to $10CAD based on the size.
2. The Amethyst Mine Panorama Experience ROCKS
Maybe more irrelevant information, but my birthstone is Amethyst so I was pretty excited when I found out that Thunder Bay was known for their Amethyst Mines! Turns out, Amethyst is also the official gemstone of Ontario and translates to the "jewel of the gods" to symbolize love, happiness, humility, sincerity, and wealth. Previously, farmers believed the stone protected their crops from hailstones and locusts. Today, Amethyst is used for garden decorations, jewelry, or in some therapies to promote physical and emotional healing and Chakra balancing.
Anyways, this place features a 15-minute guided tour that allows you to get an inside look into the mines history and their founders. This mine is NOT underground (yes, I thought the same thing) and was founded in 1955 when a fire tower was being built on a nearby hill. After the tour, you are free to walk around and mine your own rocks. The place was littered with Amethyst, so don't worry…you'll find plenty!
Location: 500 Bass Lake Rd., Shuniah, ON P0T2M0
Hours: May 15-June 30, 10:00am-5:00pm
July 1-August 31, 10:00am-6:00pm
September 1-October 15, 10:00am-5:00pm
Prices: $10CAD admission per person & $4CAD/lb. of Amethyst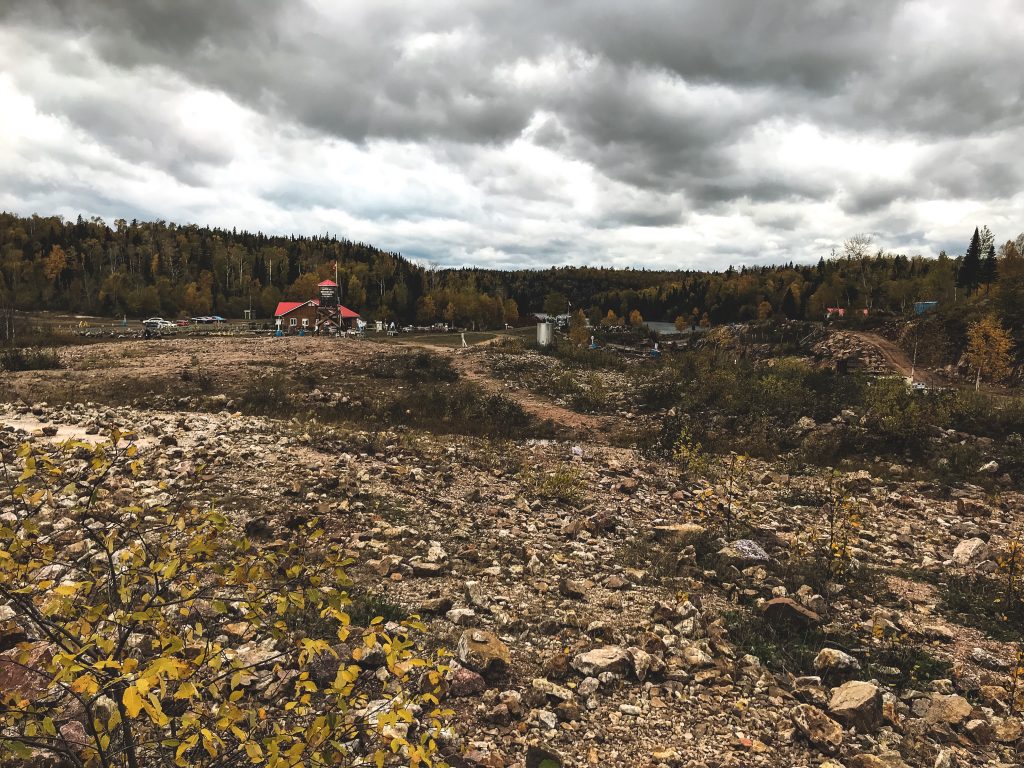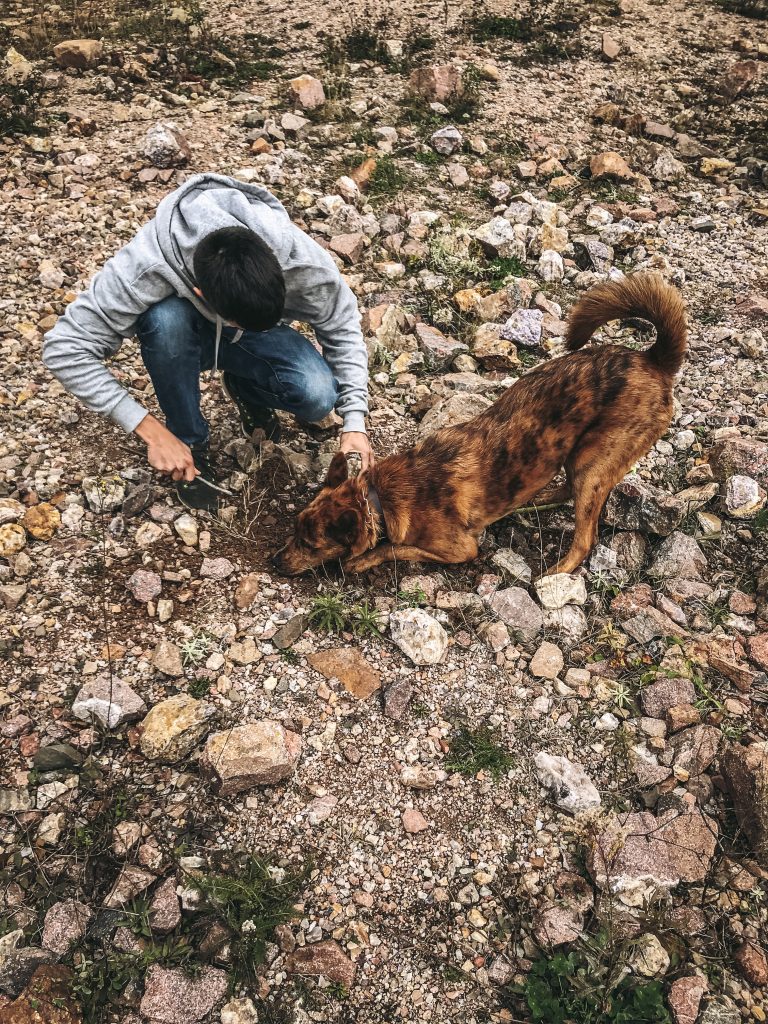 3. Get Sky High at Eagle Canyon Adventures
Eagle Canyon Adventures is home to Canada's longest, fastest, and highest zip line with it being ½ mile long and reaching speeds over 45mph.
If that doesn't seem to get your blood pumping, the suspension bridges sure will. They feature two of Canada's longest suspension footbridges at 300 and 600 meters.
David and I decided to just do the suspension bridges since the zip line was a separate cost. Before you go looking at the price and thinking "ok guys, is it really worth the money for just a bridge?"…the answer is YES. Even David (who isn't as keen on doing the expensive tourist-oriented things) found it to be well worth it.
Even if the adrenaline rush or heights aren't your things (we even admit, the bridge was a bit terrifying…but, you can conquer it), the canyon is just overall a breathtaking view and worth it just for the photo opportunities. It also features tons of picnic tables and hiking trails throughout the park, so there is still plenty to stay busy with even if you don't decide to do the more daring activities!
Location: 275 Valley Road, Dorion, ON P0T1K0
Hours: May 1-October 15, 10:00am-6:00pm
Prices: $20CAD/person for admission & suspension bridge access
$60CAD/person plus the admission fee for the zip line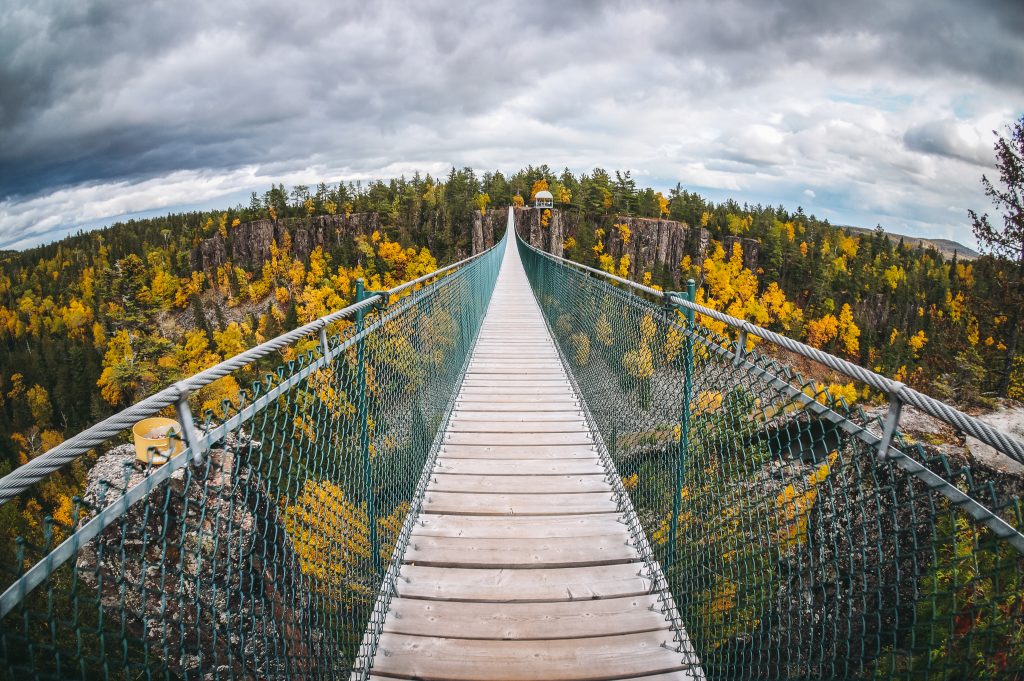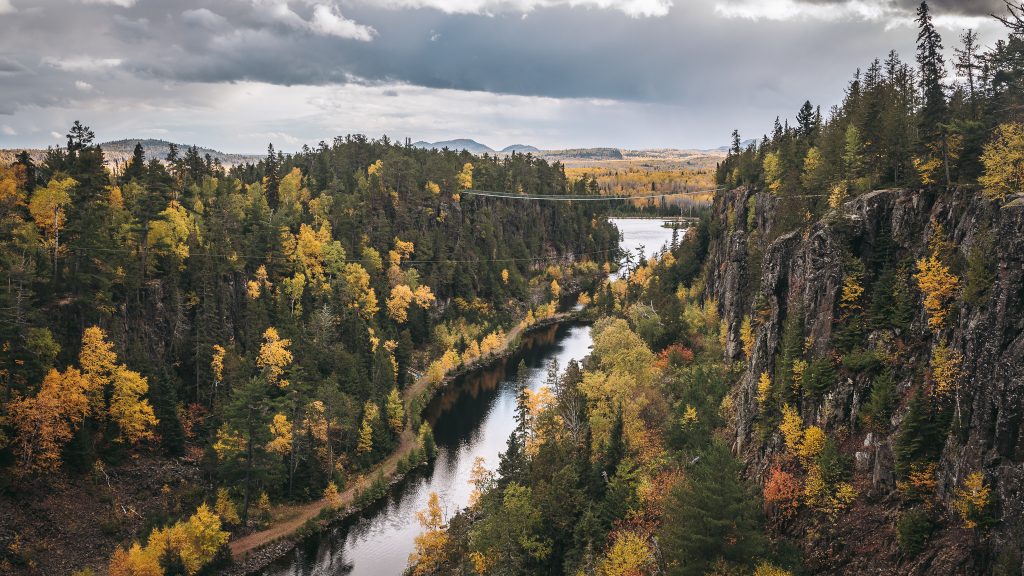 4. Lace-Up those Hiking Boots at Sleeping Giant Provincial Park
Sleeping Giant Provincial Park offers an assortment of day hikes and camping sites that will 100% please any outdoor enthusiast looking or some awesome views of Lake Superior. The park has over 100km of hiking trails for day and overnight trips. Some of the more challenging hikes (over 5 hours long roundtrip) will take all the way to the cliff tops of the Giant! Unfortunately, we didn't have the time or weather to complete one of these daring hikes. If you're like us and not so sure you have the time or energy for just an insane (nearly 13 mile) hike, there's still plenty to see at this pike, including the Sea Lion! The Sea Lion Trail is only 0.5km from the Kabeyun Trail. It features some challenging rock formations that you'll have to hike over in order to see the beautiful formation that is the Sea Lion.
Location: R R 1, Pass Lake, ON P0T2M0
Hours: Day Use – January 1-December 31 (Year Round)
Camping – May 17-October 15
For more information on available hikes, check out the activities page here! 
5. Get a Mooove On to Slate River Dairy
Even if I'm a slight bit Lactose Intolerant, how could I pass up fresh milk products? They sell whole, skim, and cocoa milk, as well as yogurt and butter that comes fresh from the pasteurized cows themselves. Even more appealing, is that their products come in glass containers and taste DELICIOUS! We got the Cocoa Milk and were not disappointed.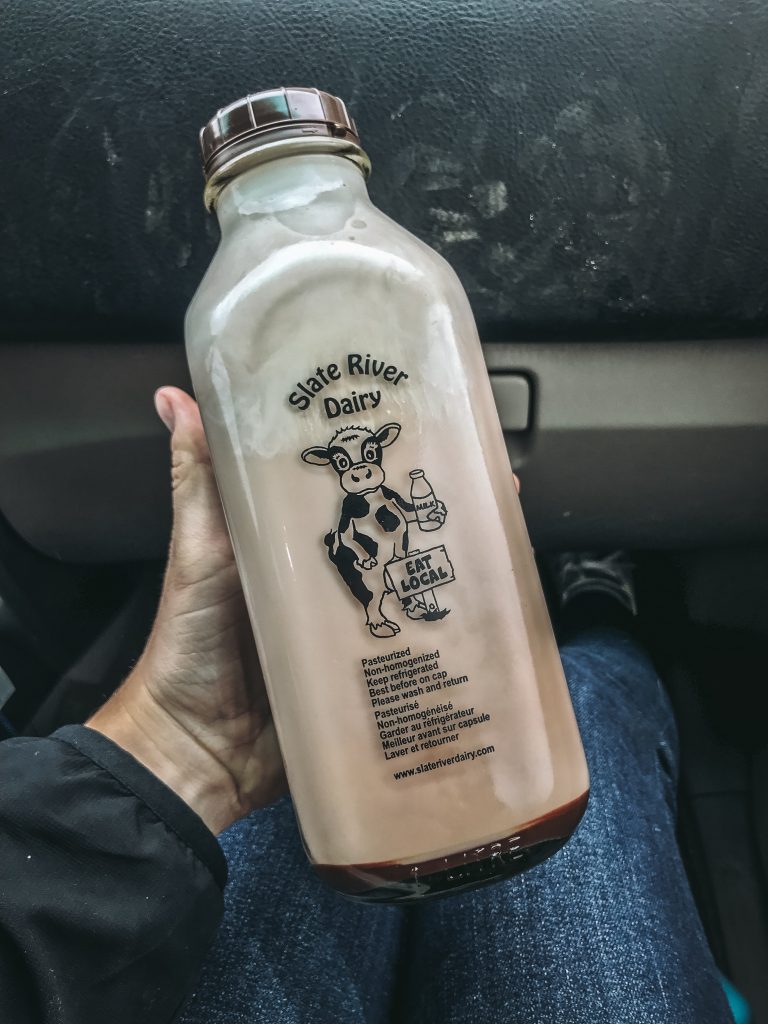 Location: 8 Highway 608, Thunder Bay, ON P7L0C8
Hours: Tuesday/Wednesday/Friday/Saturday, 10:00am-5:00pm
Thursday, 1:00pm-7:00pm
Closed Sunday and Monday