Colorado Springs is located at the eastern foot of the Rocky Mountains and is known for its beautiful rock formations and one of the highest peaks in the entire state of Colorado! Founded in 1871 by Civil War hero General William J. Palmer, there is no shortage of things to do in Colorado Springs, no matter how long you're there for including trains, hikes, museums, zoos, and more! Whether you're looking for an outdoor thrill or educational activities, Colorado Springs has endless opportunities.
Quick Note: If you plan on staying in Colorado Springs for a week, we'd recommend taking a look into some of these Colorado Campgrounds and RV Parks. We love camping when we travel, especially when it's in a beautiful state like Colorado!
Visit Pikes Peak: The Highest Peak in North America
Pikes Peak is located in west downtown Colorado Springs. The mountain is known as the highest peak of the Rocky Mountains in North America at 14,115 feet. This incredibly famous landmark and second most visited mountain in the world needs to be on your bucket list of things to do in Colorado Springs! You can reach the summit a few ways, but our favorite is the 19 miles drive up via the Pikes Peak Highway that is only accessible during spring and summer months. Do note that there is a rate of $15 per adult and $5 per child to take this option up to Pikes Peak.
Not going to Colorado Springs in spring or summer? No worries, you can still experience the breathtaking views, scenery, and wildlife that Pikes Peak has to offer by taking the Manitou and Pike's Peak Cog Railway. Other options include walking, hiking, or cycling to the peak via the Barr Trail, a 12.7-mile uphill route.
Bring Your Camera or Hiking Shoes for Garden of the Gods
Garden of the Gods is one of the most beautiful places in the country and is completely FREE to the public. The red rock formations are breathtaking and draw people from all around the world interested in photography or nature. Furthermore, you can catch a glimpse of the notorious Pikes Peak from a distance. (so, try to get there on a bluebird sky kinda day!) If you're looking for a more adventurous experience at the park, check out its options for hiking, rock climbing, cycling, and even horseback riding!
If you're interested in learning more about the features of Garden of the Gods, check out the article that I wrote about it!
See Where the Best in the World Train at the Colorado Springs Olympic Training Center
If you want an inside look at an Olympic training facility, you can catch any of the Center's year-round tours. This facility houses tons of athletes and coaches prior to an upcoming Olympic Games, including their housing, dining, recreational facilities, and other services for up to 557 coaches and athletes at one time. Tours start at 9:00 am Monday through Saturday and conclude at 4:00 pm. Admission for adults is $15.
Feel Like You're Flying at the Royal Gorge
If you're afraid of heights…let's just say this may not be your cup of tea, but could be totally worth it as one of your things to do in Colorado Springs! The Royal Gorge Bridge is the highest suspension bridge in North America at over 956 feet above the Arkansas River. You can access the awesome sight by walking or Segway. Other options to experience the mind-blowing sights of the Gorge include an aerial Gondola, ziplining, or Royal Gorge Rafting. There is also the option of traveling on the Royal Gorge Route Railroad by train for 24 miles to really get an up-close and personal look of the gorge while enjoying local wines and a gourmet meal.
Get Up Close and Personal with Wildlife at Cheyenne Mountain Zoo
This is the United States ONLY mountain zoo and features more than 500 animals and 200 species. If that doesn't entice you, they also offer their visitors the opportunity to feed giraffes and elephants! Or, you could ride a ski-lift to overlook the entire zoo. From Monday through Thursday, the zoo costs $19.75 for adult visitors and $24.75 during peak days (Friday through Sunday).
Enjoy Historical Culture While Visiting Manitou Cliff Dwellings Museum
The Manitou Cliff Dwellings were originally located McElmo Canyon and date back between 800 and 1000 years old. The cliff dwellings of the Anasazi population were re-located to Manitou Springs in 1907. Since then, they have been open to the public to enjoy, explore, and get a sense of their history. The cost of admission into the park is $10 for adults.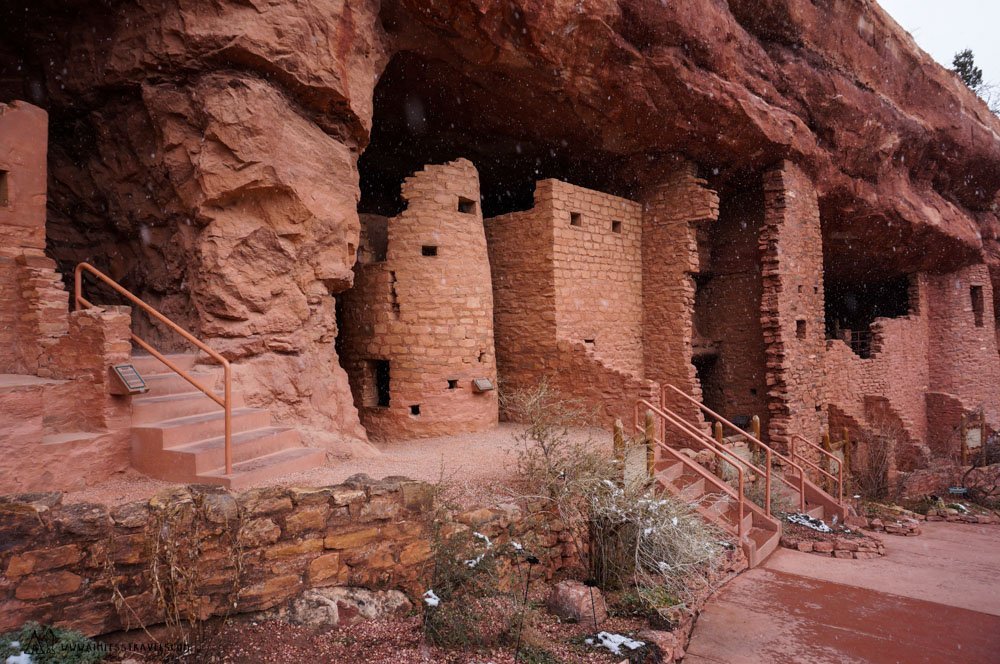 Go Down Under in Cave of the Winds
If you're into tight and dark spaces, then Cave of the Winds in Manitou Springs is for you! Cave of the Winds gets its name from a cool breeze that emanates from the entrance. The cave was opened in 1880 and is now home to over 20 massive and lighted rooms. These spaces feature limestone, stalagmites, and other awesome rock features. Furthermore, the site features a 150 cliff drop with its Terror-dactyl ride, a Wind Walker Challenge Course, and the Bat-A-Pult ride that gives you an aerial view of the mountains.
Cave of the Winds offers two types of tours for its visitors. The Discovery Tour is the basic walkthrough of Cave of the Winds providing brief histories about the rock formations and caves. This tour is highly recommended for groups with children. It costs $22 for adults, $16 for children, and children 5 and under are free.
We attended the Lantern Tour while visiting the Cave of the Winds. This tour is not for younger children or those with mobility issues. Guides take you through the undeveloped sections of the caverns with only a lantern for light. At one point, you experience total darkness for about a minute as everyone is prompted to blow out their candles. These caverns are also considered to be haunted and feature tons of uneven and slippery surfaces, low ceiling heights, and tight passages. Adults cost $32, children $20, and children 5 and under are not permitted.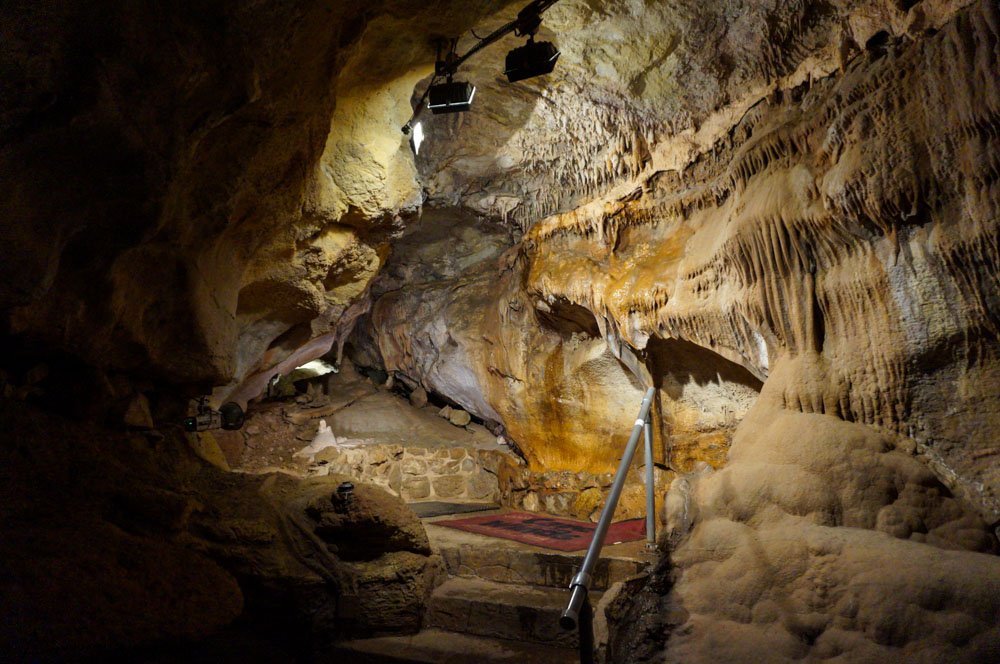 Check Out Seven Falls at the Broadmoor in Colorado Springs
The Seven Falls features beautiful hiking trails and a 224 step climb to reach a gorgeous stream. If you're into more of an adventure, there's an adrenaline-filled zipline and rope course taking you above the waterfall. Getting hungry? Take a trip to a wonderful dinner at Restaurant 1858 that overlooks the falls.
FYI – This post may contain affiliate links, which means we earn a commission (at no extra cost to you) if you purchase from them. We only recommend products we use and love. Thank you for your support in helping us travel! For the full explanation on what this means, feel free to check out our Privacy Policy and Disclosure.