Meet Alex, Frankie, (their latest edition) Paco, and their sprinter van conversion Lolo from FnA Van Life! We recently met this amazing couple on a spontaneous 4th of July trip in Oakridge, Oregon. After spending a weekend with them, we were quickly inspired by their journey, background, and amazing van. What's even more relatable is the fact that they're from Brooklyn, NY!
This road-life community is full of so many amazing rigs – but, what's even more incredible, is their backstories. In this interview, we'll talk with Alex (@thisvangirl) and get to know more about hers and Frankie's (@thatvanguy) sprinter van conversion and experiences on the road.
Where are you both from and how long have you been traveling?
"Frankie is from Brooklyn, New York and I'm from Toronto, Ontario. We met and built out our rig in Brooklyn and have been on the road since December 2019."
Tell us your story: What attracted you to the road?
Traveling off-grid has always been on my bucket list. On our first date, Frankie told me he was about to road trip across the country and I was immediately dreaming of taking the trip with him even though we had just met.
We were both tired of the hustle of New York City. We'd been working 40+ hours a week plus commuting for years. Our jobs weren't fulfilling us spiritually and we had no time for anything but just surviving. We both longed to slow down and plant roots elsewhere. Six months after that first date, I brought out a spreadsheet and budget that would save us enough money to build our tiny home and travel for at least a year. The original thought was that in traveling, we would find a town where we wanted to buy a home but now we're happy to just explore for as long as possible.
What type of rig do you have? What other vehicles did you consider and why did you decide on a van?
We have a 2003 Dodge Sprinter 158 wheelbase. Frankie and I looked at so many different vehicles before buying. We decided we wanted a blank canvas rather than fixing someone else's work so RVs were out. School busses and ambulances seemed cool until we realized they get terrible gas mileage. We considered Pro Master and Ford Transit but felt like the 03-06' Sprinters have the best engines and longevity. So, we went on the hunt and found Lolo in serious disrepair body wise but she had an amazing engine and was the midsized wheelbase that we wanted so we pulled the trigger.
What was the total cost of your build? Was there anything you wish you had in your build that you don't currently have?
The van cost $4,000 and we spent about $7,000 on the build. I'm honestly really happy with our layout. We're doing a little renovation project to actually take away some of our kitchen area because it's too big and I want to access our fridge from the top instead of the side slider. We've had to do minor fixes and upgrades along the way to make sure our cabinets stay closed when we're driving and we have somewhere to store our laundry. Overall though, I'm really happy with our design because we designed it specifically for our lifestyle so it fits us perfectly.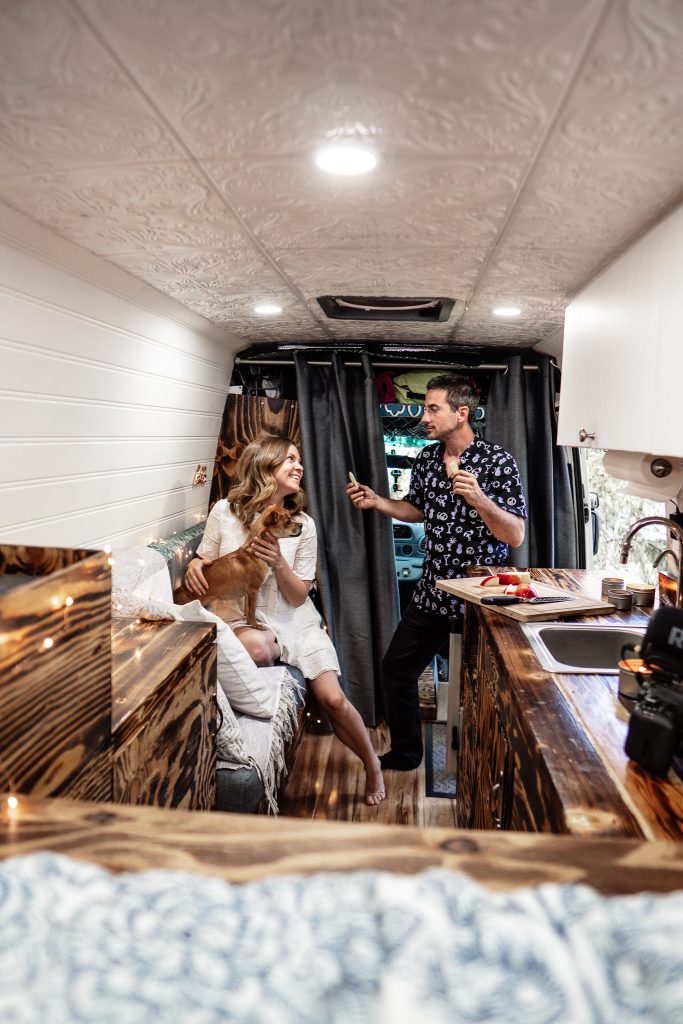 If there's one thing you wish you could've done differently, what would it be?
I do wish that our bed was a bit lower, we had to make it the height it is because we were storing our bikes under it. Now that we have a bike rack on the back we really don't need all that garage height and it's nice to have the extra storage back there. We were worried the bikes would get stolen or we wouldn't be stealth but we have a huge mural and our tags on the side of the van, we're never going to be stealth.
Can you tell us one of your most memorable moments on the road in your sprinter van conversion?
We loved the Redwoods in California and all of Oregon as well. But our best memories are about the people we've met along the way. The older gentleman named Jim who we befriended on a ski lift. After riding with him all day he gave us access to his timeshare so we could shower and use the hot tub.
The van lifers we met at a hot spring in Oregon who welcomed us into their crew and generously cooked an amazing breakfast for us. Or when we met Aimless Travels and they let us watch the stars from their roof deck.
The mechanics who've gone above and beyond to make sure our rig is roadworthy, they've all given us great deals on their work or not even charged us at all.
At every step of this journey, we've met amazing people from all walks of life who make each day an exciting adventure.
How about your least favorite? What are some challenges that you face?
The first three months of our journey was a world record attempt. Frankie wanted to snowboard the most mountains in one season so we had a list of 83 resorts to get to in just a few months. That was an insane task but we work well as a team so I handled the logistics and food and Frankie did the driving and snowboarding. By the time we got to mountain 69 in Tahoe, we were both burnt out so COVID was kind of a blessing in disguise. It gave us the freedom to stop and slow down. To decide how we actually wanted to travel and explore which was way slower, giving us space to stop and enjoy places.
Has it been difficult to travel with a partner? Did you overcome challenges with them? How do you handle disagreements?
I know how trite this sounds but Frankie and I get along great. We rarely have disagreements and the only tension between us comes when we're working on the van and both of us are hungry and annoyed. Generally, a sandwich fixes that.
Whenever we are upset, we just talk about it. If Frankie or I say something the other doesn't like, we tell them straight up. That leads to an apology as we never mean to offend each other and we hug and makeup.
There's never been a time when we've needed more space than we have. We don't need to slam doors or storm off. We really just get along that well.
Let us know where our readers can follow you and see more of your sprinter van conversion!
We would love for you guys to find us on YouTube www.youtube.com/fnavanlife or Instagram @fnavanlife www.instagram.com/fnavanlfie
We started our YouTube channel long before we started traveling. I am a health coach and was making healthy recipes and Frankie was sharing his snowboarding adventures. It was cool to meet someone who shared my passion for video making and editing. We both really love putting together fun videos that entertain and inform.
When we started building our van and traveling, we wanted to share with the community that helped us so much. We watched hours of sprinter van conversion tours and van build videos learning what we needed to do to get our van ready and how we wanted our van to look. By making the videos we do, we want to share even more information with people looking into this lifestyle to let them know it really is attainable and amazing.
Want to see more inspiration about bus and van life? Check out some more articles with conversion ideas and lifestyle tips here!