David and I have converted our 2002 Thomas Built School Bus into an RV and are currently traveling around North America. Our goal is to explore National Parks, visit some insane beaches on the west coast, and chase the deepest powder North America has to offer.
Currently (at this EXACT moment), we are make our way out west through Canada. Despite the weather getting colder, our goal is to cut back into the United States by either North Dakota or Montana. But, life on the road is already proving to be unpredictable - so we'll see where we go from here!
The 2002 Thomas Built bus was originally used on Robins Air Force Base as a transport vehicle prior to purchasing her in November 2018. It has a Cummins 6.3 diesel engine with ONLY 85,000 miles on it. Our goal was to keep to a budget of $30K and a timeline of 6 months. We quickly blew through both of those (as most renovations go...), but we'll share more about that another time! The renovation took a total of 10 months, with about 4 months of those being full-time work. While still not 100% done (really though, when are renovations ever completely done?), we officially took to the road September 17, 2019.
Charlotte is equipped with a full kitchen, 2 beds, toilet, shower, dining area, closet, and garage, as well as running water, electricity, air conditioning, propane heat, diseal heat, and radiant heat. The inside isn't the only fun thing you'll find on our bus! The outdoors are improtant to us, so our bus also has a roof deck, toy box, exterior tool box, grill, outdoor shower, and exterior side table.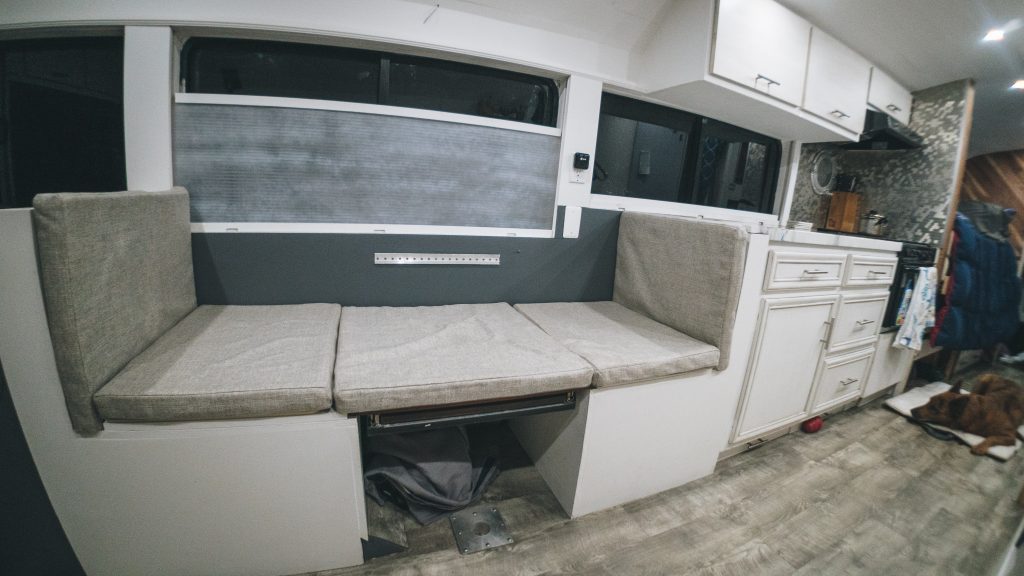 MOST RECENT AIMLESS TRAVELS ARTICLES