As with most things in a bus conversion, your skoolie bathroom is going to have to be well thought out. You're going to have to take certain things into consideration like whether or not you want a shower, are you okay with a wet bath, or do you need a tub?
While we personally love our skoolie bathroom in our bus conversion, there are SO many more beautiful bathrooms throughout this amazing community. Scroll through, check them out, and find out if some of their designs may work for your skoolie bathroom inspiration.
FYI – This post may contain affiliate links, which means we earn a commission (at no extra cost to you) if you purchase from them. We only recommend products we love and review. Thank you for your support in helping us travel! For a full explanation of what this means, feel free to check out our Privacy Policy and Disclosure.
Outback Skoolie
Toilet: Nicole and Charlie are using a Nature's Head toilet. It works well and they never smell anything from it. If they could've done it again, they would've plumbed a urine diverter to their grey tank. They've also seen great homemade composting toilets that they think deliver as much value as the Nature's Head.
Additional Info: They love the size of their bathroom! Nicole and Charlie have plenty of space to use their sink, shower, and toilet separately. Charlie could be brushing his teeth while Nicole showers and they's still have enough space.
The layout of their skoolie bathroom is extremely unique. They built an L layout specifically so they could have a shower and sink with enough space. Their tiling is absolutely gorgeous. Instead of a shower pan, they used the Schluter-Kerdi system to help slope thier floors.
Instagram: @outbackskoolie
The Rolling Travelers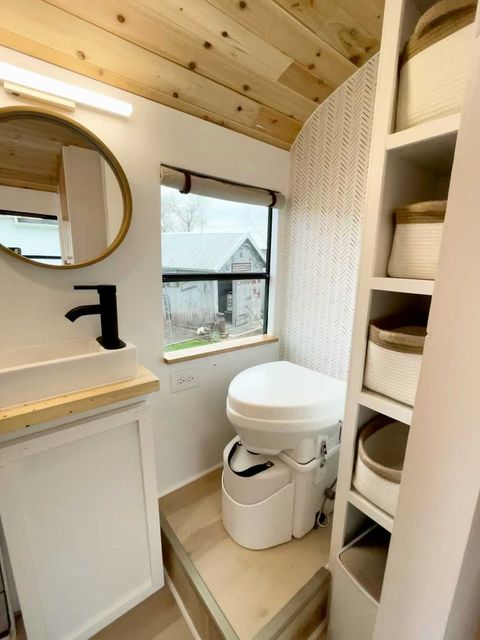 Toilet: Derek and Leah use a Nature's Head Composting Toilet. They feel the toilet is most convenient for off-grid living as it allows you to go the longest time without dumping. It's also plus that they don't have to deal with dump stations!
Additional Info: They haven't had the opportunity to spend a substantial amount of time in / using the bathroom since they will not be living full-time in their bus living until mid-May 2021! But, from what they have experienced, they wish they gave themselves a little more room. The wheel wells made it tricky but they feel it'll still work out for them.
They're excited about how the whole vision of the bathroom came together! One of their favorite features is the Nature's Head toilet along with the design of the shower. The simplicity of the large grey tiles really makes the bus unique. It also was a fun challenge to design such a small area while still giving each primary bathroom component its own space.
Instagram: @therollingtravelers
Simple Life Skoolie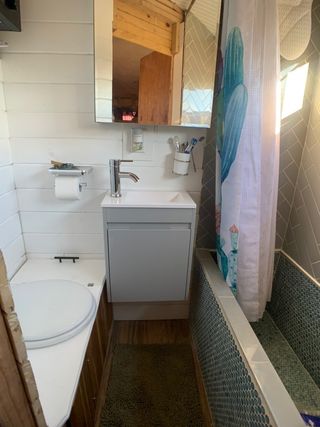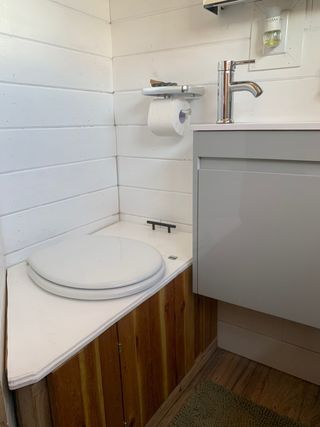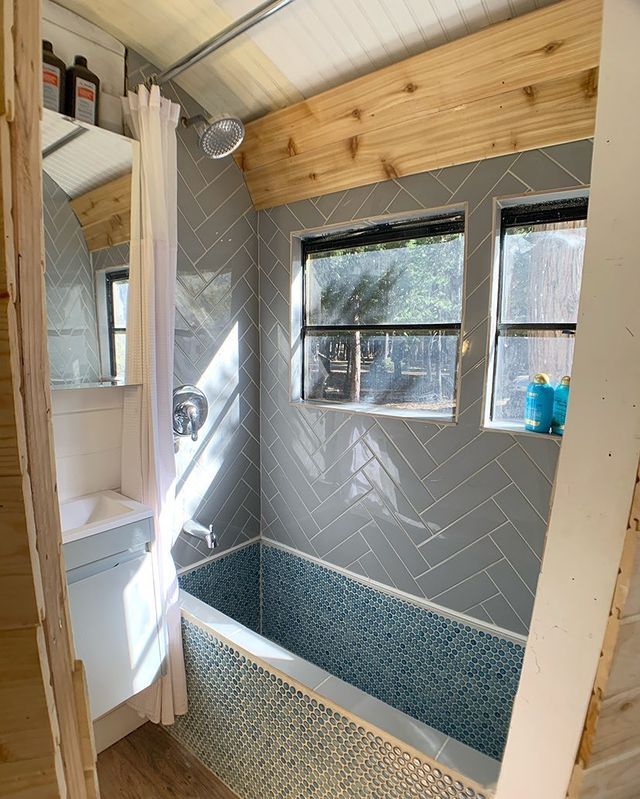 Chelsea and Robert's skoolie bathroom is beautiful, and not just for that tub! The tile work is so unique and unlike anything we've seen in other conversions. Who wouldn't want to soak in here?!
Toilet: The couple has a composting toilet. Instead of purchasing an expensive premade toilet, they opted for creating their own and would highly recommend it to those on the fence. Composting toilets eliminate the need for dumping a black tank.
Bathroom Style: While their bathroom is on the smaller side, it has the perfect amount of space for them. On top of that, have you seen how gorgeous the setup is?!
Favorite Part About the Bathroom: Their favorite feature of the bathroom is their bathtub! It was Chelsea's top request when they started their build. For a while, she thought it wasn't possible until their good friend Ryan (@bentleysroad) taught them how to build a roman tub. It's just a few inches short of a full-size tub and is completely custom!
Instagram: @simplelifeskoolie
Sweet Sweet Bus Life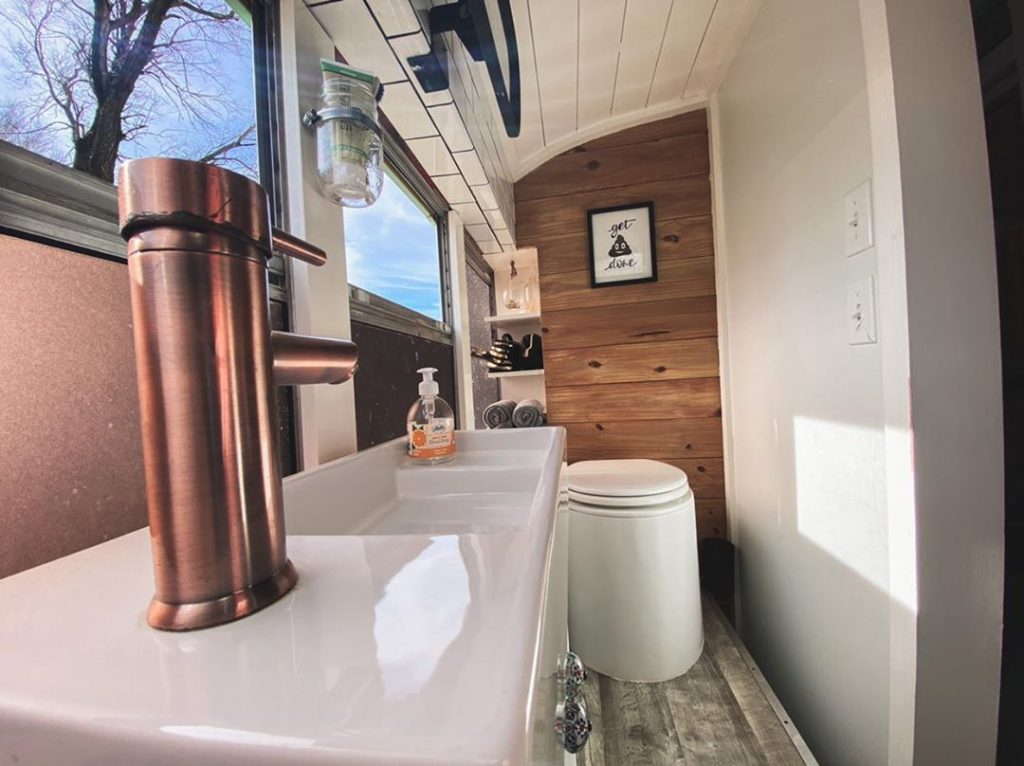 We LOVE how Anna and Jeff used their bathroom's space. Wheel wells are some of the most difficult challenges when it comes to incorporating a bathroom into your bus. On top of that, it's even more rare to find an actual sink! This bathroom is definitely something to awe at.
Toilet: They built their own toilet! They'd recommend a DIY setup because…well, it's rewarding. There's nothing quite like saying you built your own toilet.
Bathroom Style: The couple spent many hours designing their bathroom's floor plan. They are a large family and wanted every square inch to be used. Additionally, they wanted their home to be as "house-like" as possible. With only one room, the family only sacrificed a little space but had a larger trade off.
Favorite Part About the Bathroom: The family loves that their shower roof is raised. It gives them just over 9′ from shower floor to ceiling. This is a great option for people wanting a taller shower but not wanting to go through an entire roof raise.
They also love their tile! Tile was used throughout the entire bathroom and although it was a lot of work, the end result was worth it.
Instagram: @sweetsweetbuslife
Since We Woke Up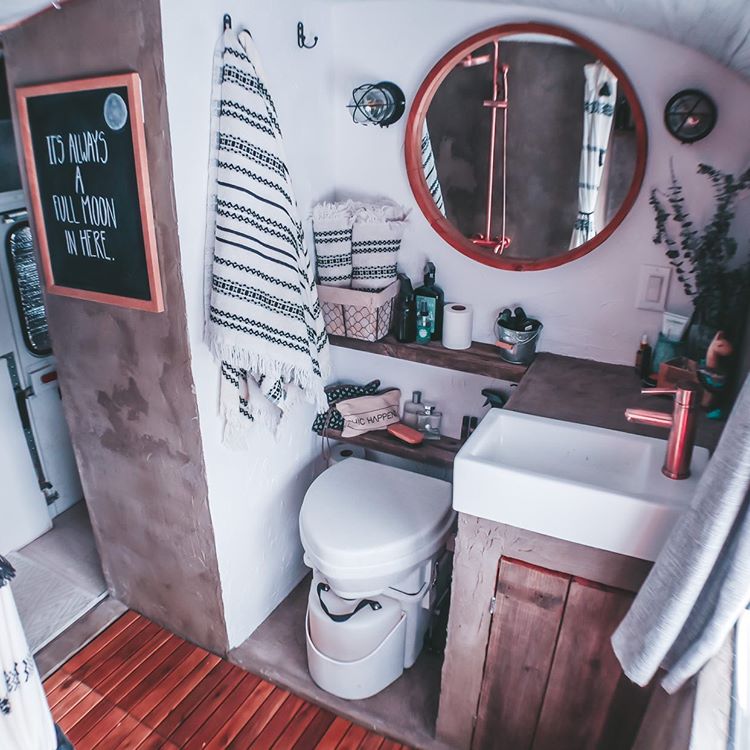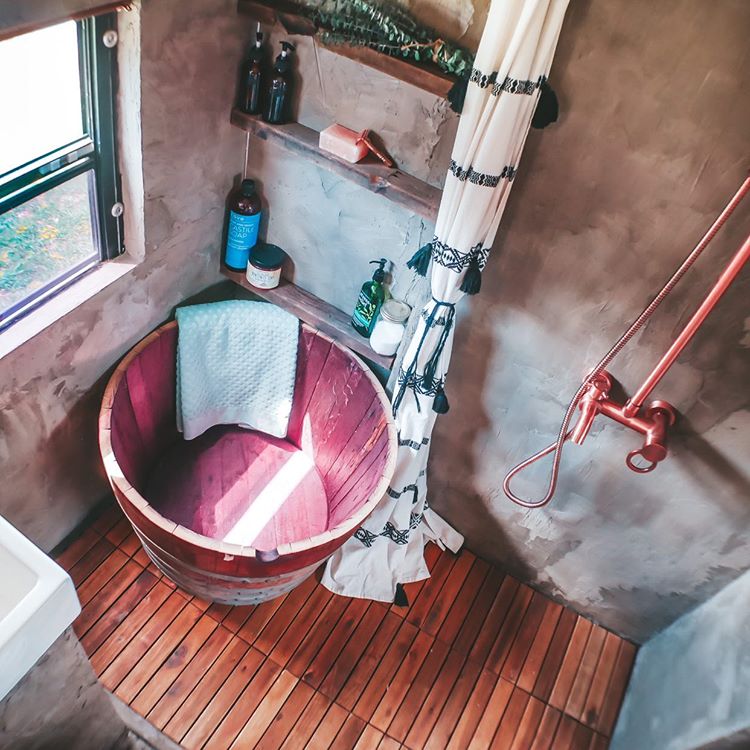 Tawny and Mike have such a beautiful bus bathroom with a boho style – and we can't get enough! It's equipped with all of the bells and whistles and reminds me of a personal spa. It's crazy how much you can fit into such a small space and proves that you don't have to give up every amenity while living this lifestyle.
Toilet: Their skoolie, Oliver, is equipped with a Nature's Head composting toilet. They didn't want to deal with pumping a black tank, so it wound up being a perfect solution.
Bathroom Style: Tawny and Mike went with a wet-style bathroom for a number of reasons. For one, it allows the bathroom to feel more spacious, even if it's only in a tiny home. By doing it this way, they have a shower that feels really big (especially in skoolie standards!) while still having space for a sink, toilet, and bathtub. Additionally, the couple hadn't seen it done often in skoolies and figured it would be fun to try!
Favorite Part About the Bathroom: Their favorite thing about their skoolie bathroom is hands down their barrel bathtub. We completely agree that this feature makes their bathroom stand out from all the rest. It's portable so they can use it inside or out. On top of that, it always smells vaguely of wine every time they take a bath!
Instagram: @sincewewokeup
Hippie Hustlin
Jeff and Yvonka's skoolie bathroom has always been a favorite of mine, which is exactly why it had to be included in this list! I mean seriously…bathrooms in a house don't even have all of these features. A bit bigger than most average skoolie bathrooms, Hippie Hustlin's build features a cedar shower, bubbling bathtub, and toilet!
Toilet: Jeff & Yvonka have a Nature's Head composting toilet. They'd highly recommend it to anyone doing the "off-grid" lifestyle. At first, they felt skeptical and even wanted to return it. But, after almost a year and a half in, the couple is glad they kept it. Not having a black water tank significantly reduces the worry around dumping your tanks. As an extra bonus, it never smells.
Bathroom Style: According to Jeff, he's a "larger fella" and nothing on the bus really feels quite big enough. But, the bathroom has just enough space to move around and get whatcha gotta get done, done!
Their build's bathroom also incorporates a bathtub. Yvonka LOVES baths and it was a must-have item for her. There's nothing like a long day of snowboarding and being able to soak in a nice bath! The only downside? It can only be used when they're hooked up to water. While that has happened maybe a dozen or so times, they love having it as an option. Jeff thinks that having additional storage space may have been a better choice, but Yvonka would strongly disagree!
Favorite Part About the Bathroom: Their favorite feature of their skoolie bathroom is the tub and cedar shower. Since Jeff is 6'5″, the shower is the only place on the bus that he can stand up straight. Additionally, the cedar makes it smell great!
Their bathtub is also designed in a unique way and turned out to be one of the highlights of their build. There is river rock on the bottom and even bubbles that can be turned on when desired. Sounds like a luxury spa if you ask me!
Instagram: @hippiehustlin
Cecilia the Short Bus
We met Christa and Matt in Nevada back around March 2020. David and I both loved the simplicity and design of their bathroom. It goes to show that you don't need a ton of extra wiggle room in your budget to add in a shower and toilet into your skoolie conversion!
Toilet: Christa & Matt have a Thetford Porta Potti with electric flush. Unlike the usual composting style, they have a chemical toilet that collects waste in a 5-gallon tank (lower half of the toilet). It was affordable, simple, and compatible in a wet bath setup.
It clips into a base and if they really want to, they can remove it to the shower. Additionally, with the right treatment, they don't have issues with odor!
Bathroom Style: With only 100 sq. ft. in their skoolie, they had to prioritize space based on how often it was going to be used. At first, Matt was hesitant about putting a full-shower in. Now, he's more than happy with the benefits at the end of adventure-filled days and it has proved to be enough space for both of their needs.
Favorite Part About the Bathroom: Christa and Matt's skoolie bathroom was super budget-friendly including the toilet, shower head, etc. In total, they spent about $300 for the entire space. Matt also made a super cool shower pan out of sealed plywood! While they think their skoolie bathroom is quirky and nowhere near perfect, we think the design is definitely different and unique!
Instagram: @ceciliatheshortbus
The Kastle on Wheels

Christa and Jeremy have one of the most beautiful bathrooms we've seen…especially for such a tiny space! Their tile and woodwork give this skoolie bathroom a cozy feel that's perfect for their family!
Toilet: The family uses a classic Dometic RV toilet. If they were to do it again, they wouldn't do a flushing toilet. Instead, they probably would've gone with a composting toilet. They feel as though the issues with their toilet just makes it way too frustrating to deal with!
Bathroom Style: Christa and Jeremy went with a "wet bath" shower concept. This has allowed them plenty of room for both kids in the shower without feeling crowded.
Favorite Part About the Bathroom: We absolutely love their wet bath shower setup! It's a perfect way to get a toilet and shower into such a small space.
Instagram: @thekastleonwheels
Roaming Home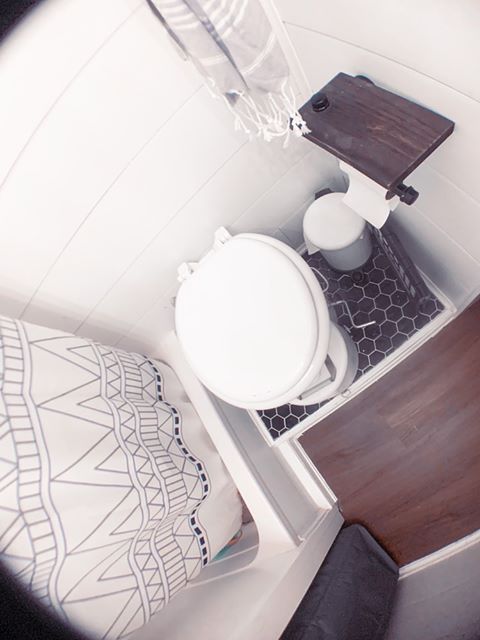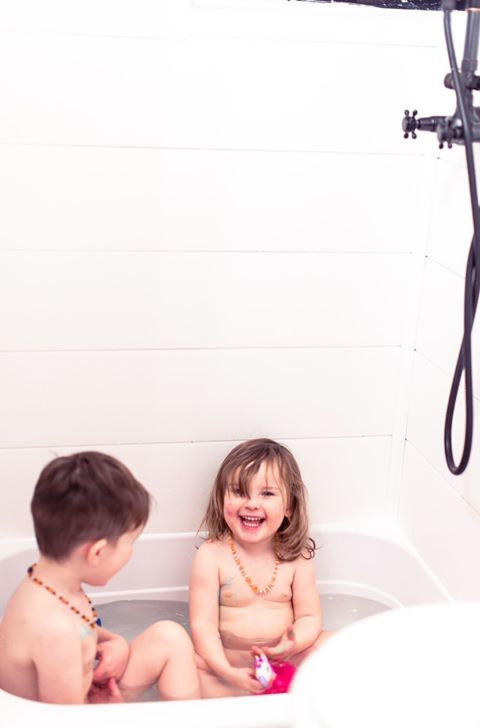 We quickly fell in love with Sharel and Tyler's adorable skoolie bathroom when we came across it on Instagram. With 2 adults and 3 young children, the bathroom has proved to be a perfect size for their family.
Toilet: The couple and their family use an Airhead composting toilet. They'd recommend this brand over Nature's Head for a number of reasons. First of all, it has an actual toilet seat.
Unfortunately, they've had a few issues with plumping their liquids tank directly into their grey tank. Without those issues (which they think could be user error), they believe it was worth the money unless you have the time and resources to build your own toilet.
Bathroom Style: Sharel and Tyler's bathroom is one of the more spacious skoolie bathrooms we've seen! It has tons of storage and shelf space that fits all of their necessities with an industrial farmhouse feel. Their tub is a bit smaller than they had originally planned, but it still does its job, even with 3 young children!
Their shower curtain rod bends to make the shower area even wider. This gives it a more spacious feel while taking a shower and prevents the curtain from touching you! But, like most tiny spaces with a lot of people, it gets cramped if their entire family is in there (which is almost never necessary).
While Sharel sometimes misses having a sink, the shower or kitchen sink works fine and isn't a huge inconvenience.
Favorite Part About the Bathroom: Sharel and Tyler's industrial corner shelf is so cute and makes an awkward area into a functional space! Their shower curtain rod is another beautiful feature. It has the ability to bend in and out which adds more space in the shower and bathroom. The shiplap is also special and practical as it's beautiful, waterproof, and easy to clean.
Instagram: @roaming.home
Homer the Roamer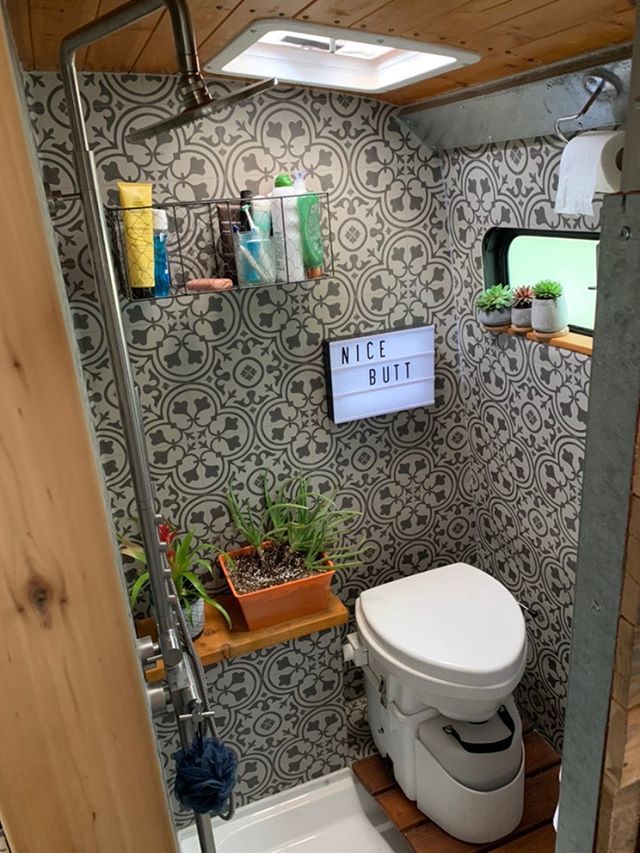 You can't help but fall in love with Ryan and Kim's skoolie bathroom – and it's not just because of the cute sign in the background! With all the natural light, this bathroom is one of the most inviting ones we've seen.
Toilet: The couple loves their Nature's Head composting toilet. It's easy to clean and has no smells, but would be nice to have a bigger liquids container. They find themselves emptying it quite often.
Natures head composting toilet.
Bathroom Style: Sometimes, they think their bathroom as too much room! But, in hindsight, they would've preferred to not take as much space away from the bed.
Their unique shower features 3 different showerheads with one that even fits outside of the window for an outdoor shower! It's the perfect setup for hot summer days after being in the water.
Favorite Part About the Bathroom: The walls are their favorite feature of their skoolie bathroom. It's actually not made from tile! They hung vinyl flooring on the walls and it has worked fantastic so far.
Instagram: @homer.the.roamer
The Sweet Salvation
Alexa and Jonathan built an absolutely stunning bathroom that looks completely different from the rest. Despite it being a bus, it offers plenty of room to move around, and who could complain about showering under the stars (or sun)?!
Toilet: Alexa and Jonathan use an Airhead Composting Toilet and they love it. One of the main reasons they chose it over Nature's Head was because the seat was more like a "regular home" (rounded and a bit cozier!). They also loved the fact that the urine tank is separate which allows you to easily remove it without having to move the entire toilet.
Bathroom Style: Is there really ever enough room in a bus?! The couple has a 32-foot skoolie so the bathroom is a bit on the tighter side. Their bathroom sits over the wheel well with a 2″ shower pan. In order to make it as roomy as possible, they installed a Velux skylight.
Favorite Part About the Bathroom: They love that their entire bathroom is a wet bath. They have a dog and the shower setup allows them to easily wash her. Since she loves to roll in dead things…the extra space and removable shower head really is a win/win with the dog!
Instagram: @thesweetsalvation
Aimless Travels Skoolie Bathroom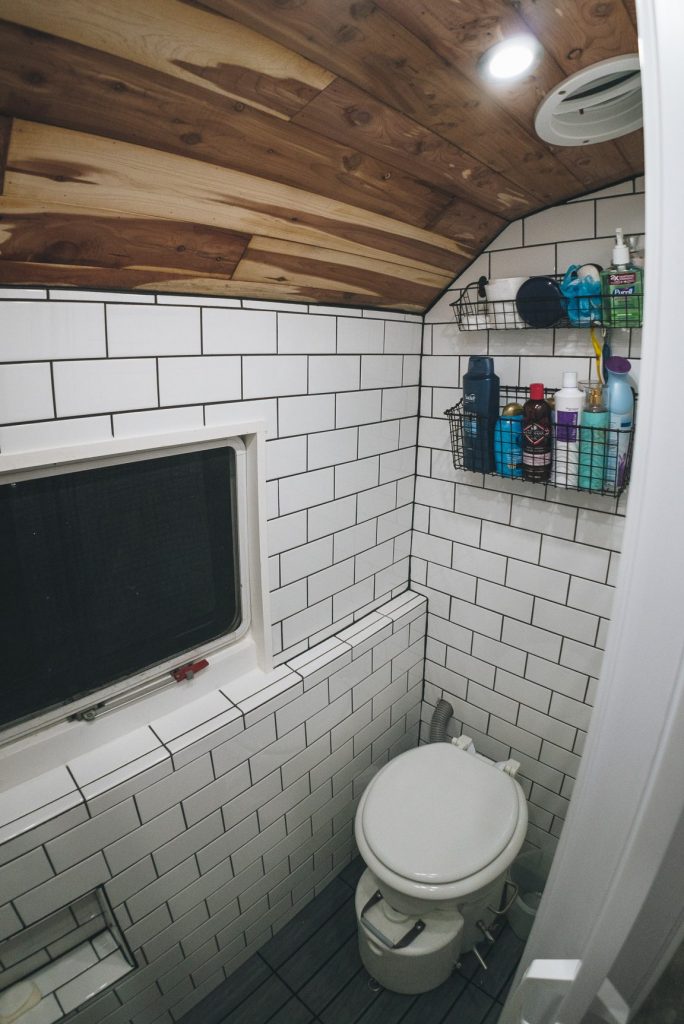 Of course, we HAD to include our own personal bathroom on this list! It has fit our needs for almost a year now and we don't regret incorporating it into our build. However, as with anything, there are definitely a few things we would change about it!
Toilet: We have an Airhead composting toilet. While it does its job well, we probably would've built our own if we had the time. It would have been cheaper and you could've allowed for a larger liquids container. The biggest downside to the pre-made composting toilets is that their liquid containers are small. We find ourselves dumping it way too often and that's just with 2 people!
If you want to find out more about the different types of composting toilets and see examples of a "homemade" one by our friends at @roamingwilsons, check out The BEST Types of Composting Toilets.
Bathroom Style: We really tried to give our skoolie bathroom a modern look by incorporating greys, whites, and brown wood tones that you'll find throughout the bus. Our skoolie is about 26-28ft, which means we had limited room. We chose a wet bath style for that reason. David custom-built a shower pan into the floor and we haven't had any issues with it leaking out of the bathroom.
Favorite Part About the Bathroom: I LOVE our cedar ceiling! We found it for a fantastic price at Habitat for Humanity and just had to install it into our shower.
Instagram: @aimlesstravels