Bus Conversion Manufacturer: Thomas Built Model: MVP Saf-T-Liner EF Year: 2002 Length: 26 ft. Engine: Cumins 5.9 230hp Turbo Diesel Fuel Injection Type: Electronic Fuel Injection Transmission: Allison 2000 Brakes: Air Batteries: 2 1000 CC Bus Batteries Original Mileage: 85,000
We bought our bus in November 2018 from Charlotte, North Carolina (hence her name, "Charlotte"!). Once we knew we wanted to purchase a school bus and take on the challenge of renovating it, David came across the 2002 Thomas Built bus on Instagram for sale at $10,000. Quickly after looking more into it, we discovered that it was a retired United States Air Force vehicle used at Robins Air Force Base in Georgia. With only 85,000 miles, a medium-size length, little to no rust, a flat nose, and a cool story behind it, the bus really ticked all of our boxes. The price tag was far over our budget, but we gave the guy a call anyway. Long story short, we wound up negotiating to $6,000 and flew down that weekend to get her shipped home to our friend's backyard in New Jersey.
Our Bus Conversion Specs
Before we knew it, we were coming up with a budget, timeline, and personal checklists for the bus conversion. Of course, we blew through our budget and timeline pretty quickly. Our conversion took us approximately 10 months and $40,000 (including the purchase of the bus). While I was fortunate enough to have a remote position at the time, David was forced to quit his full-time job to live life on the road with me (lucky him).
Our medium-sized, flat-nose bus conversion is equipped with tons of unique features that really make our build something we love. While there are always some hiccups on the road, we are pretty happy with how everything has worked out for us.
Off-Grid Solar Set-Up, Tesla Battery & Toy Box 
Our skoolie has (4) 355-watt solar panels that total 1420 watts. Our house-rated 37V panels are bolted onto a fabricated steel rack that was welded by David. This rack has supports that are bolted directly into the bus ribs.
Two of our solar panels sit on a linear actuator. This allows us to tilt our panels at a specific angle for optimal solar collection during winter months. Below these panels also sits what we call our "Toy Box". David simply laid out metal sheets along the side of the rack and built custom wood fittings to hold our snowboards, skimboards, fishing poles, and gear bags. The only way to access the storage box is by using a remote controller or attempting to open it yourself…which is not the easiest task out there.
There is a 5.3kwh (3.8kwh usable) Tesla battery on the interior of our bus conversion. The Tesla battery was procured on eBay. David had to wire up a 6-pin director to connect the battery balancer to the Tesla battery. While Tesla vehicles have 14 modules, our bus only has 1.
We have a custom-made monitoring system that ensures proper temperature and voltage levels. There are also 2 EPEVER 40amp charge controllers, a 2000w/4000w Giandel inverter, 110V distribution panel, 24V-12V stepdown, and 12V distribution fuse box.
Plumbing & Water Storage
We have a total of 135 gallons of fresh water on our bus. There is a 90-gallon tank of fresh water in the interior and another 45 gallons on the exterior. Next to our 45-gallon exterior freshwater tank is also a 35-gallon gray water tank. 
All the water in the bus goes through a single-stage water filtration system that eliminates rust and sediment, as well as helps with taste. Under our kitchen sink, there is a 6-stage filtration system for a separate faucet that is only used for drinking water.
We can independently drain and fill the internal and external fresh water tanks. Our external tank is generally used as a reserve. We try to keep our water levels low in the external tank during winter to prevent potential freezing. We also placed a radiant heating pad and reflectix on all of our external fresh water and gray water tanks to further prevent freezing during colder temperatures.
Insulation
Our bus conversion contains insulation on its walls, ceiling, floor, and pretty much every crack you can think of. We paid an expert to apply spray foam insulation to the walls and ceiling. On the floor, we used XPS foam.
If you're curious about what we used for insulation and some of the differences between options, check out: Everything You Need to Know: Bus Conversion Insulation.
Sources of Heat: Diesel, Propane, & Radiant Heat Loop
During our conversion planning stage, we knew we needed a decent amount of heat for the climates that we planned on staying in during winter months. Additionally, it's always good practice to have a backup option just in case something goes wrong.
Our bus has 3 heat sources built into it. The Chinese diesel heater is our absolute favorite source. Its affordability and efficiency make it such a suitable option for so many people, especially those on a budget.
We also have a Propane heater from a deconstructed camper and radiant floor system running throughout the bus.
Our radiant system has 4 separate loops throughout the bus conversion including the floor, reheating for the recirculating shower, towel bar, and external water tanks. There is a glycol solution that runs through the pex tubing to prevent the pipes from freezing and bursting down to negative 20 degrees Fahrenheit.
We have also implemented a dual temperature manifold that allows for easy adjustments to the temperature. In other words, we can directly control the temperature of the temperature output for all 4 of the separate zones.
Air Conditioning
Originally, we didn't even want to incorporate an air conditioner into our build. With the price and fear that we wouldn't have enough solar to handle an air conditioner, it was quickly put on our back burner until summer hit.
Our 90,000 BTU Dual Inverter LG Smart Air Conditioner is now mounted on the back door of our skoolie. We can run it all day with solar and still have enough energy to charge up the battery. It pulls on average 600w-700w.
Recirculating Shower Concept 
When it comes to boondocking, water is usually the limiting factor for how long you can stay out without having to fill up. We wanted the luxuries of having a shower without being fearful that it could use up all of our water.
David engineered a recirculating shower concept onto our bus. It cleans water in a 3-stage filtration system (one of which is a UV sterilizer). It then reheats it to the desired temperature output using one of our radiant heat system loops.
Kitchen & Countertops
The kitchen is equipped with a Magic Chef propane stove/oven and hood that we bought from a deconstructed camper. The backsplash by the stove was made using adhesive tiles called Inoxia Speedtiles.
While a double sink may seem excessive to some, we love our double stainless steel Frankie sink setup. Found at Habitat for Humanity, it has really helped us with saving water while washing dishes. We also have a drying rack over the smaller sink to maximize space.
The slide-out garbage bin was designed for separate dry and wet sections. Our pull-out features 13-gallon and 6-gallon trash cans.
We are currently using an apartment-sized Danby Designer 10 cubic feet Defrost Upright Freezer that is converted into a fridge. It's usually about 30-35 degrees Fahrenheit depending on the season and pulls approximately 60-80w of energy. Fridges, on the other hand, pull about 200w-250w.
We installed RV latches onto all of the kitchen cabinets and drawers to prevent anything from following out or opening during travel.
Our countertops have easily become one of our favorite parts of our build. We poured Stone Coat Countertop's A and B Epoxy mixtures over an old countertop from a house and piece of Formica board we found on the side of the road. The veins and details were all handmade with spray paint and then altered with a heat gun.
If you want to know more about using Epoxy to make your own countertops, check out our article: DIY Skoolie Epoxy Countertops.  
Bathroom
Charlotte's bathroom is a wet bath concept. With a medium-size bus, you are still going to run into some design restrictions and ours were the wheel wells. Due to where they fell, we only had enough room for one bathroom – so we had to make it a combo deal.
We opted for subway tile in our bathroom using charcoal, epoxy-based grout. This allows the tiles to flex and withstand more movement. It's been almost a year and we haven't had any issues with cracking or breaking yet.
Our bathroom's ceiling is made out of cedar and floors from composite wood decking found at Home Depot. The shower pan was built on an angle using small pieces of wood to allow the water to flow toward the drain. We chose an AirHead composting toilet that eliminated our need for a black water tank.
To get more information about our bathroom and how we designed it, check out our article: How We Built Our Skoolie's Bathroom.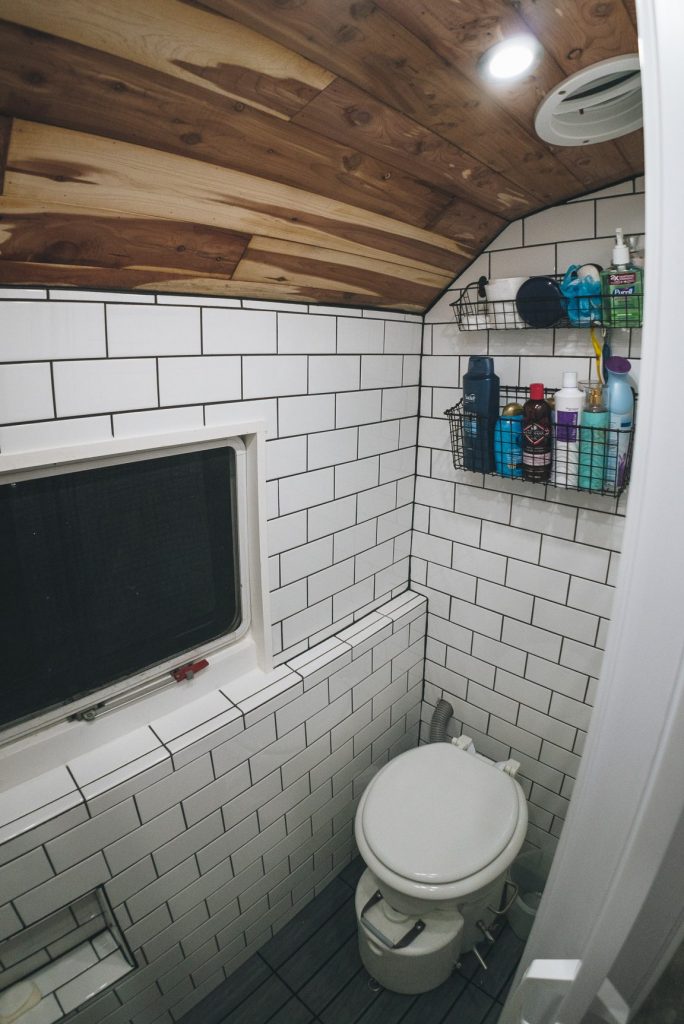 Sleeping Arrangements
We have 2 sleeping areas within the bus. Our couch in the front can be pulled out into a full-sized bed. Extra cushions are stored in our garage space when they're not being used.
Our second bed is in the back. Similar to our design in the front of the bus, the bed in the back can be pulled out into a full-sized bed.
Dinette Area
It was important for us to have a dining and workplace area on our bus conversion since we both use our laptops for work. Our dinette space functions as both! The seats also act as extra storage and both sides pull out to comfortably seat 4 people. Additionally, the table collapses and fits perfectly between both seats. The dinette can then act as another couch or reading nook.
A special shout out to Romeu Rei (@romeurei) for the amazing concept and design ideas for this dinette space!
Want more information about how we designed the dinette setup? Check out: Building a Multi-Functional RV Dinette.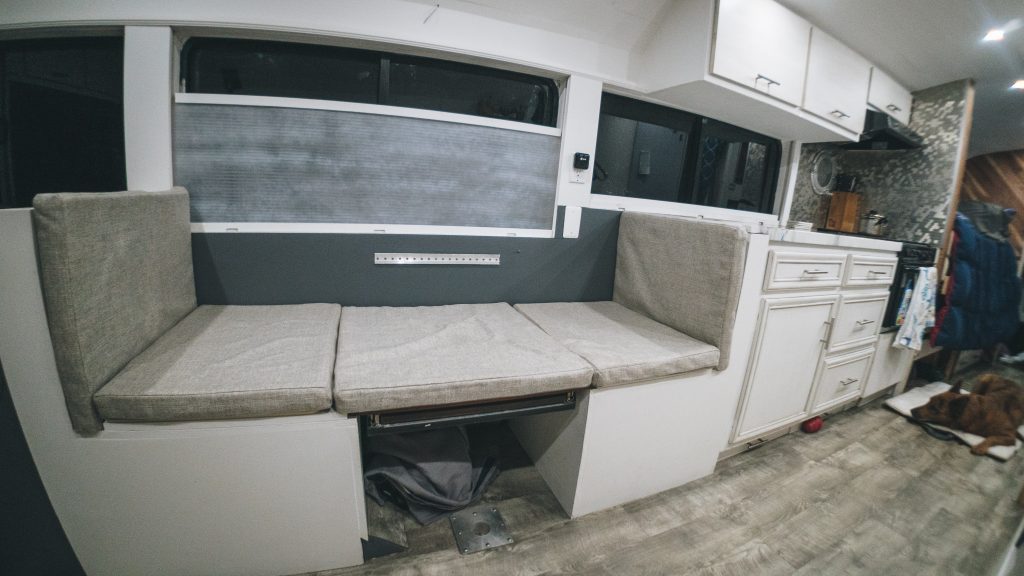 Storage Options in Our Bus Conversion 
We wanted to ensure that we had more than enough space for food and necessities that we'd need for staying out in the boondocks for weeks on end.
The entire portion over the dashboard/driver's area is dedicated to cabinets. We wanted to utilize that extra space as much as we can and it functions great for miscellaneous items like our backpacks, tools, first aid kit, chargers, cables, camera gear, etc.
David built drawers under both sleeping areas. There are large drawers under the couch in the front for my items and David uses his custom-made drawers in the back for his clothes.
More unique areas for storage can be found in our bookshelf, toe kicks, and under our dinette's seats. There is also a closet toward the back of our bus conversion right next to the bathroom.
Shade System 
There is a custom-built dual slider shade system incorporated into each window toward the front of the bus conversion. The outside layer functions as a privacy shade that still allows light in, but sneaky eyes out. The other inside shade is completely white with a sheet of reflectix toward the outside that helps retain heat during the colder months. The blackout shades have also proved useful for extra privacy in public areas like Walmart.
Outdoor Features & Lighting
We have 4 different zones for outdoor lighting (right, left, back, and grill area). These lights are great if we just want to check on what's going on outside at night. We have also installed a rearview safety camera system on the back, left, and backside of the bus, outdoor table for the grill, outdoor faucet, outdoor shower, toolbox storage, and storage for (4) 20lb propane tanks.
Deck
Our deck is made from pressure-treated wood. The wood was screwed onto the steel frame that David fabricated on the top of the bus. This has been one of our favorite places to hang out or pitch a tent on during warmer months!
Garage Space
Our garage space is separated from the rest of our bus by a sliding door we purchased from Home Depot. It's used as an extra storage and utility closet. The garage space can be accessed from either the inside or outside of the bus and keeps our hiking, rock climbing, tools, and snowboarding gear secure.
In addition to gear, our garage space features all of our utilities that are built into the walls including our tankless water heater with a boat bilge fan to vent out harmful propane fumes, Tesla Battery, 2 EPEVER charge controls, 2000w/4000w Giandel inverter, distribution panels, step downs, distribution fuse boxes, outdoor shower, and a Dupon water filter. The recirculating shower system also sits right behind the shower in the garage.
What We Love Most About Our Bus
Super Unique Past: Our 2002 Thomas Built was originally used in Georgia at the Robins Air Force Base. We love the fact that she has such a unique past, and even has the dog tags to prove it!
Medium Sized Length: We loved the rare shape of our bus. We were looking for a medium-size bus and knew they were hard to come by, especially in a flat nose style. While there were some design restrictions in the build, medium-size buses really do offer the best of both worlds between a short and full-size.
Long & Tinted Windows: Charlotte has windows that are unlike any we usually see when it comes to school buses. While we replaced a few of them, they allow in a lot more light and just add to the unique style! Additionally, they came already tinted.
Great Engine & Mileage: Just because people say that school buses last forever, doesn't always mean it's true. Some people buy their buses with 200,000 miles, but we wanted something with lower mileage. This gem was only at 85,000 miles. On top of that, the bus came with a Cummins 5.9 Diesel engine and Allison Transmission. It had a clean bill of health from a recent inspection a few months prior to our purchase, as well.
Little to No Rust: We're originally from New Jersey and were worried about rust issues on local buses. We weren't wrong. However, we were pleasantly surprised when there was little rust on the bus. Even when we tore up the flooring, we didn't find much!