Have you and your friends been looking for a great spot to go on vacation? Salt Lake City, Utah may just be the perfect destination for you! There are so many Salt Lake City activities within the city and around it…many of which you may not have even known about.
Salt Lake City, Utah has tons to offer including water sports, hiking, museums, camping, and so much more! There are so many Salt Lake City activities to choose from, and we found it difficult to pick only a few while we were on our trip.
Rent Wakeboarding Boats, Jetskis, or Kayaks for Endless Water Fun
There are tons of fantastic spots around Salt Lake City for renting wakeboard boats, jet skis, kayaks, or paddleboards. Some of the most popular lakes around the Salt Lake City area include Lake Powell, Flaming Gorge, Jordanelle, Strawberry Reservoir, and Sand Hollow.
When it comes to some awesome Salt Lake City activities, water sport rentals have to top the list. During our trip, we rented a wakeboard boat to use on Jordanelle Reservoir. You pay for the boats per day and gas on top of that. The boat cost about $625 for 2 days. Additionally, at least one person in your group needs their boating license. If you rent the boat for more than a day, places will often give you discounts.
If boating isn't necessarily your thing, jetski and kayak rentals are also available for Jordanelle Reservoir. Jetskis cost about $75 per hour and kayaks about $25 per hour.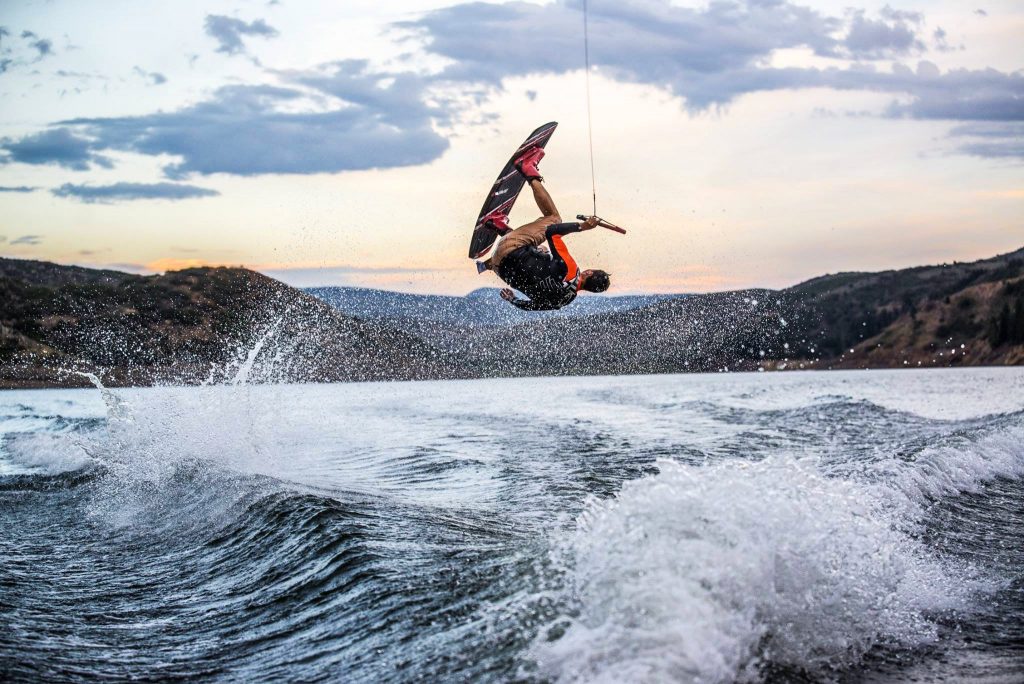 Take a Few Hikes
If you're a big hiker, you'll love Utah, which is why it must be added to Salt Lake City activities! A few of our favorite hiking trails around the Salt Lake City area include:
Cecret Lake: Cecret Lake is apart of the Wasatch National Forest and is a protected watershed for Salt Lake City. It's about a 1.7-mile hike to find the gorgeous Cecret Lake. The trail takes you up about 400 miles to a 9,875 ft. elevation. Besides the high altitude, the trail was fairly simple with a few terrain obstacles.
Fifth Water Hot Springs (aka Diamond Fork Hot Springs: The hiking trail to these beautiful hot springs is a 4.5-mile hike that can be accessed during all times of the year. It is heavily trafficked, but well worth it for the crystal clear and incredibly warm water. With only a 636-foot elevation gain, this has become one of the most popular naturally-occurring hot springs in the state of Utah.
During winter months, you will have to add an extra 1.5 miles there and back due to road closures. Additionally, it is highly advised that you rent or buy snowshoes or spikes as the trail can get very icy.
Donut Falls: The hike to the Donut Falls is an easy 3.5-mile round-trip. The best time to visit this hike is during the summer due to both the weather and the surrounding scenery. It's suggested to visit during early mornings, evenings, or weekdays to avoid crowds. Note that dogs are not welcome on this trail!
Take Pictures of the Sunset at Bonneville Salt Flats
The Bonneville Salt Flats were formed when the ancient Lake Bonneville dried up. When the lake eventually shrank, it left behind salt deposits. Now, the Bonneville Salt Flats offer a beautiful, flat surface that allows for driving and camping. It is important to use caution while driving on the flats as some of the areas can be muddier than others or even contain water.

Visit Utah Olympic Park
Utah Olympic Park was designated for the 2002 Winter Olympics hosted in Park City, Utah, which is 28 miles from Salt Lake City. In the summer, it can be one of your fun Salt Lake City activities! You can tour the park where you'll find a museum, zip lines, rock climbing, and a huge pool for skiers to practice their jumps!
Take an Air Tram Ride to Hidden Peak Summit at Snowbird Ski Resort
We're so used to visiting ski resorts during the winter. So, seeing a ski resort during the summer, when there's really no snow around, is such a novelty and treat. Visiting Snowbird should be on your list of Salt Lake City actives. While not located directly in Salt Lake City, Snowbird is about a 35-minute drive. Snowbird allows you to pay a fee of $20 for an adult ticket to take the air tram to Hidden Peak Summit. If you love photography and scenic views, we'd suggest this option. Otherwise, there are options to hike to the summit if you're looking to save some extra money.
Spend a Night Camping in the Great Outdoors
One of our favorite things about the west is camping. BLM land (Bureau of Land Management) allows you to park essentially in the middle of now where for up to 14 days, absolutely FREE. There are so many locations near Salt Lake City that you'll just have to add this to your Salt Lake City activities for your vacation. Just note that many of the BLM spots may require a 4-wheel drive vehicle and some research to find a great spot.
Some paid spots include Mountain Shadows Mobile Home & RV Park, VIP Campground, Afleck Park, Spruces Campground, and Salt Lake City KOA.