Meadow Hot Springs has become one of our all-time favorite hot springs in the US, and there's no wonder why. Just south of Filmore, Utah, the springs are located on private property that is accessible during all seasons. They are crystal clear, swimmable, and have panoramic views of the snow-capped mountains.
The 3 Springs of Your Dreams
Meadow Hot Springs feature 3 different pools that all vary in temperature. The closest pool is the warmest and deepest spring on the property at 102 degrees and nearly 27 feet deep. This smaller but deep pool has become a popular destination for scuba divers and freedivers from around the country. Locals have even tied a rope that attaches to the bottom of the spring and allows easy control and access. The warm spring is crystal clear and allows you to free dive where you'll access a small cave below the surface. Be sure to use caution when you're diving as there are overhead rocks that can knock you unconscious on your way up to the surface.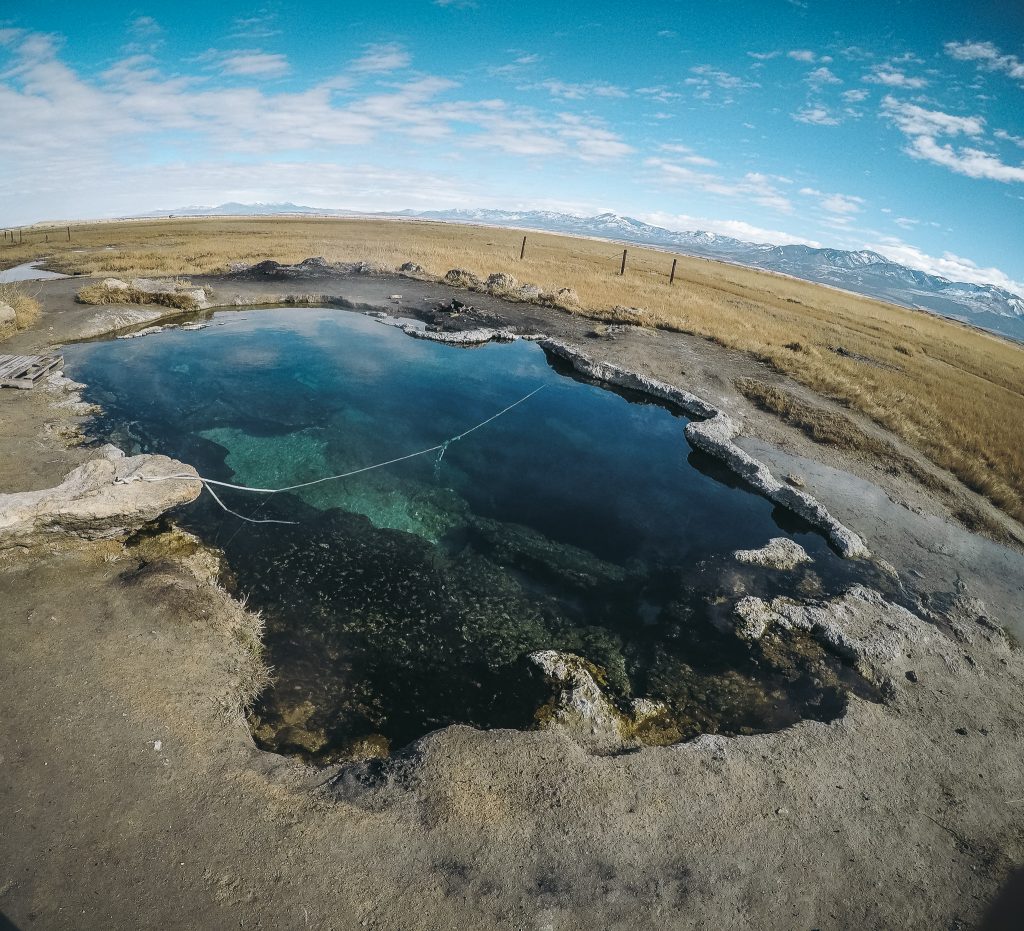 Past the warmest pool sits another crystal clear hot spring that is slightly cooler in temperature. This hot spring is also a bit bigger and is definitely worth the visit. Not only do fewer people go to it, but there are tons of tropical, freshwater fish including cichlids of all sizes.
Speaking of fish and getting almost a mini tropical vacation snorkeling, the 3rd pool sits the furthest away, is the biggest, and is definitely the lowest in temperature. Despite the temperature, we were still able to swim during the winter wearing just normal bathing suits. The amount of cichlid and tropical fish in this spring is endless. Every time you turn your head you'll see a different species of fish that isn't frightened to follow you around. According to locals we met at Meadow Hot Springs, people have dumped these fish into the hot springs for years. There were fish that were easily over 1 foot in length!

We've been interested in finding a smaller watering hole that we could practice our breath-holding and free-diving skills, which is why the Meadow Hot Springs was an amazing find for us. While it was supposed to be a quick stop on our way up to Salt Lake City, UT, we wound up spending almost 4 days there!
Read This Before Visiting Meadow Hot Springs!
It's important to respect the beauty of these natural springs and the cattle that you'll see roaming around the property. There are trash cans at each of the 3 hot springs to throw away garbage. The property owner opened this for public use, so leave a donation if you have the means to. And remember – our goal should be to protect these places so more people can enjoy them for years to come!