There isn't anything quite like soaking in a natural hot spring on a fall or winter day. The Fifth Water Hot Springs (also known as the Diamond Fork Hot Springs) trail takes you to 3 scenic waterfalls that are surrounded by natural hot spring pools. Regardless of the time of year or week, you can expect crowds unless going early in the morning or during the evening.
Tips for Accessing the Fifth Water Hot Springs
Just an hour's drive from Salt Lake City, the Diamond Fork Hot Springs trailhead is fairly easy to access at all times of the year with a 4WD vehicle. During the winter, the Forest Service does block about 1-mile of the road to the actual trailhead. For that reason, you'll have to add at least another 2.5 miles to your round trip when that road is closed. When the road is not closed, the hike is about 5 miles roundtrip.
We visited the Diamond Fork Hot Springs in late February. The trail was heavily trafficked, even at that time of year. As a result, most of the hike was very icy. While I had spikes, David found himself constantly slipping on the trail, especially once the sun went down. While it may have resulted in a few hilarious videos, I think we'd both agree that having spikes for your shoes is a huge bonus during the winter months.
With only a 636 elevation gain, the trail overall was a moderate hike. There weren't too many crazy obstacles, which makes it perfect for bringing your canine companion with you!
What To Expect When You Reach the Springs
There are 3 scenic waterfalls falls that you'll experience surrounded by the hot springs. The lower pools are definitely the most beautiful with bright, crystal blue water. Unfortunately, these pools are generally a lot cooler than the springs located near the final waterfall that you'll encounter if you continue hiking.
We spent most of our time at the pools that surrounded the last waterfall. Since each pool varied in temperature, we'd just move around when it was necessary. Even in the winter months, some of the pools were almost unbearably hot. However, you could move some rocks around to allow cooler water to flow into the warmer pools.
Regardless of the time of year, you will most likely come across crowds. We started our hike at around 12 pm on a Thursday in late February and experienced a large number of people in the hot springs pretty much all day. We've also heard from locals that people do like to soak in the nude even though it's technically illegal at this hot spring. Just gotta be prepared for any kind of situation!
Best Time to Visit One of Utah's Best Hot Springs
It seems as though Fifth Water Hot Springs is a popular destination during all months of the year. We personally love visiting hot springs during the winter, especially when we're in Utah. The snow always provides for beautiful scenery and a little bit of an extra challenge. Plus, we finally got to break out the shoe chains!
If you have the option, it's probably best to plan a trip for the hot springs early in the morning during a weekday to avoid the rush. We also experienced quite a few people making backpacking trips out of their hike. If we could do it again, we'd love to do an overnight trip near the springs so we could access them super early in the morning.
What Should You Bring During Your Hike
1. Water: The hike is definitely on the longer side so you're going to want to stay hydrated. Additionally, the hot springs are hot and you'll quickly find yourself lightheaded and dizzy without enough water. There have been several times we've made the mistake of not staying hydrated in hot springs and quickly got disoriented!
2. Hiking Boots or Snow/Ice Cleats: If you're planning a trip from March to October, you'll be fine with some comfortable hiking boots. Note that some spots on the trail can get muddy.
During the winter months, we'd definitely suggest investing in some snow/ice cleats for your boots. The snow on the trail does get packed down, but we found that it was incredibly icy when we went. David only had hiking boots and found himself struggling on a few parts of the trail. We've used Climkiz Crampon Ice Cleats from Amazon and they've worked great.
3. Lightweight Food: During longer hikes, we like bringing sandwiches or PB&J for a little something to get us through the 2nd half of the hike. More recently, we've been loving Jonesbars as an extra energy boost.
4. Trash Bags: Unfortunately, large crowds bring in large amounts of trash. We were disappointed by how much trash we saw during our visit. We try to make it a point to pack as much trash we can out with us to help clean up. It'd be awful to see this place get closed down due to trash!
Overall Thoughts of the Fifth Water Hot Springs Hike
This had to be one of our favorite hikes during the 2019-2020 winter. The snow presented an extra fun challenge for us since we haven't done a ton of those kinds of hikes (yet). The hot spring pools were beautiful, especially the bottom few. They were such a beautiful blue color, but not warm enough to really want to soak in during the winter. These hot springs probably had one of the strongest sulfur smells and bigger crowds than we've experienced before. Regardless, they're well worth the experience and hike if you get the chance.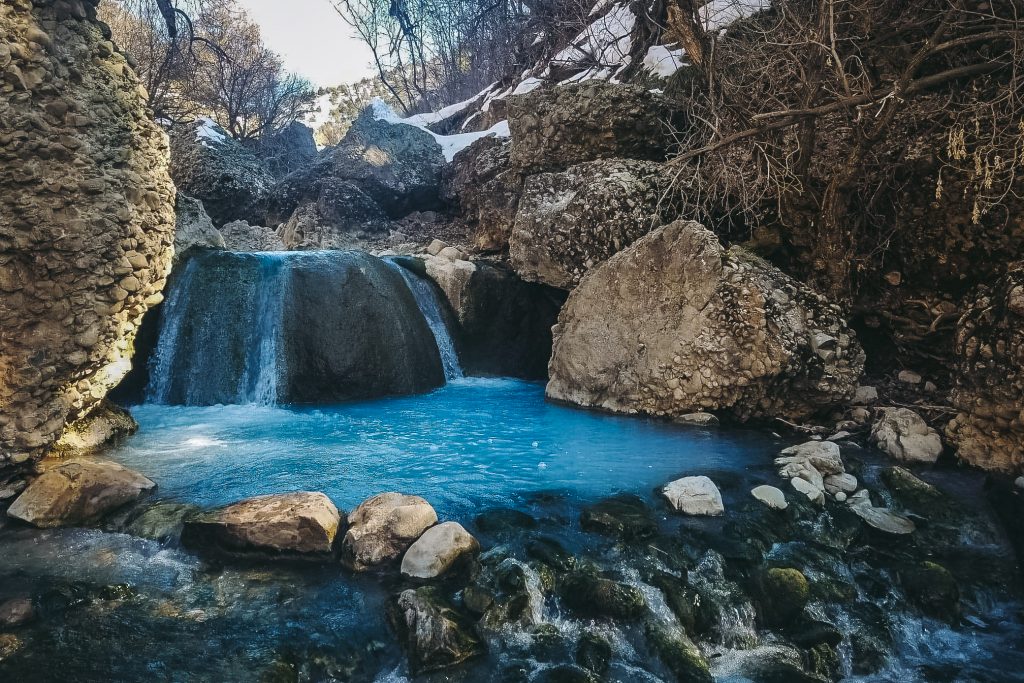 FYI – This post may contain affiliate links, which means we earn a commission (at no extra cost to you) if you purchase from them. We only recommend products we use and love. Thank you for your support in helping us travel! For the full explanation on what this means, feel free to check out our Privacy Policy and Disclosure.
Want to read more about Utah hot springs? Check out the following articles!