Ontario is known as the most populated province in Canada with over 38% of the country's population. It's no surprise that people from all over the world partake on Ontario road trips year-round. However, people fail to realize all of the places to see that are not as popular or well-known. To get a more "locals" feel to our road trip, we began our journey coming through Niagara Falls and finished in Thunder Bay, Ontario. If you are looking for the ultimate road trip along Lake Superior in Canada, you have come to the right place!
Stop 1: Niagara Falls: Grand Island, ON
Niagara Falls is considered one of the most famous waterfalls in the world and it's easy to see why! For over 200 years, it has been a popular tourist attraction and source of hydroelectric power. Niagara features 3 waterfalls: Horshoe Falls (Canada side), American Falls, and Bridal Veil Falls. Together, the Falls total a width of 3,950 feet and over 6 million cubic feet of water go through the falls every minute. The cliffs are also formed by early erosion and reach heights of up to 1,200 feet.
Parking: We parked in the Skylon Tower parking lot since we were traveling in our converted bus during our Ontario road trip. There are other parking lots for the Falls (some are free), but most require a day pass or by the hour.
Where to Stay: We stayed at Jordan Valley Campground in Vineland, ON, which was only 30 minutes from Niagara Falls. It was about $60 per night for an RV spot with hookups. While a bit pricey for us and crowded, the campsite did feature tons of amenities, including laundry.
Stop 2: Bruce Peninsula: Tobermory, ON
Niagara Falls to Bruce Peninsula: 3 hours, 59 minutes
Bruce Peninsula National Park is a long stretch that features beautiful land formations and crystal clear waters that looks like they're from somewhere tropical. The place is out of this world and should be a must-see on your Ontario road trip. A few recommendations that you should consider seeing is the Big Tub Lighthouse, Flowerpot Islands, and The Grotto at Cyprus Lake. To get to Flowerpot Islands, you will have to take a ferry – so be sure to plan accordingly!
Parking: Most of the parking on the peninsula is paid (especially when it comes to seeing the popular attractions like The Grotto. The Grotto requires parking reservations in advanced at about $11CAD per day. If you arrive after 4:00pm, you don't need a reservation, but I suggest arriving early!
Where to Stay: Bruce Peninsula National Park is a long drive, so it's best to make this an overnight trip, especially if you want to get the most out of it. The peninsula features tons of campsites. We'd recommend staying at the campsite at Cyrpus Lake. The prices are about $40 a night, but this campsite is a walking distance to The Grotto, so you'll save on parking!
If you are interested in learning more about The Grotto, check out our post all about Bruce Peninsula!
Stop 3: Toronto, ON
Bruce Peninsula to Toronto: 3 hours, 11 minutes
Toronto, ON is the capital of Ontario and is a huge city that is worth seeing on an Ontario road trip. There are tons of attractions to see, including the CN Tower with its glass bottom, the famous Casa Loma castle, the BAPS Shri Swaminarayan Mandir Hindu temple, and the Cheltenham Badlands (just 30 minutes outside of the city). If you're doing a lot of site seeing and hear your stomach growling, we'd recommend checking out one of the local Chinese restaurants.
Where to Stay: There a ton of wonderful hotels and resorts to stay at while visiting Toronto, including The Ritz Carlton, Four Seasons Hotel, Shangri-Lia Hotel, and The Hazelton Hotel to name a few. We stayed in a local town called Shelburne at a lovely Airbnb. The property has camping for an inexpensive price of $15 per night or a private bedroom in their home. If you're looking for a more affordable option and an opportunity to experience the countryside, it's your best option!
Read more about our stay at the Shelburne Airbnb: Backyards of North America: Shelburne, ON. 
Stop 4: Torrance Barrens Dark-Sky Preserve: Gravenhurst, ON
Toronto to Torrance Barrens Dark-Sky Preserve: 2 hours, 23 minutes
The Torrance Barrens Dark-Sky Preserve used to be considered the world's largest Dark Sky Preserve in 1999. The Preserve still allows its viewers to get a 360-degree view of the night sky without obstruction from light or air pollution. You'll be able to potentially see Saturn, the Northern Lights, lush wetlands, Eastern Bluebird, Cooper's Hawk, and the five-lined skink.
Where to Stay: Muskoka Lakes offers tons of beautiful places to stay. However, if you are traveling on an RV or another type of motorhome, van, bus, or whatever, we'd strongly advise you to get a membership to Boondockers Welcome! (This is not endorsed…we just really love their service). There are a few spots around Gravenhurst and they're free with a subscription (plus, the people are always amazing).
Stop 5: Bridal Veil Falls: Billings, ON
Torrance Barrens Dark-Sky Preserve to Bridal Veil Falls: 4 hours, 16 minutes
The beautiful Bridal Veil Falls is located on Huron's Manitoulin Island. The waterfall is about 35 feet high and is only a 1.1km hike. You'll also be able to get a look behind the falls, as well!
Parking: As long as you use Google Maps to find Bridal Veil Falls, parking will be a breeze. There are signs all around the area and the trail is paved.
Where to Stay: Gordon's Park is a campground toward the tip of Manitoulin Island. It features regular campsites (approximately $46 per night), hammocks, Tipi tents, luxury cabins, and even the view of the Northern Lights at certain times of the year. Just note: It is NOT open year-round! If you'd prefer to stay off the island, there is a local town nearby called Sudbury that will have amenities.
Stop 6: Bruce Mines: Bruce Mines, ON
Bridal Veil Falls to Bruce Mines: 3 hours
Bruce Mines was a small town located along Lake Superior by Sault Ste. Marie. We stopped here for a night to get some rest.
Where to Stay: Bruce Mines Township Campground and RV Park was only $20 a night. During the fall season, you'll pretty much have this local campground to yourself!
Stop 7: Katherine Cove: North Part, ON
Bruce Mines to Katherine Cove: 2 hours, 19 minutes 
Katherine Cove is a beautiful cove off of the highway that is worth taking a quick stop to see during your road trip.
Where to Stay: We stayed at a local "secret" spot off of the highway in Agawa Bay. If you are interested in finding some spots that you can boondock for at least a night, check out websites like iOverlander or freecampsites.com.
Stop 8: Wawa Goose & Middle Silver Falls: Wawa, ON
Katherine Cove to Wawa Goose: 42 minutes
While driving, take a scenic tour through Wawa to fill up on gas and see their famous goose! If you're in for a little hike, go take a look at Middle Silver Falls. The hike was a little sketchy when we went through, and it wasn't the best for pictures. But, it was really neat to see!
Stop 9: The White River Suspension Bridge: Chigamiwinigum Falls
Wawa Goose to Puaskwa National Park: 56 minutes 
To get to the White River Suspension Bridge, you'll have to embark on a long 18km hike that is a part of the famous Coastal Hiking Trail in Puaskwa National Park.
Stop 10: Aguasabon Falls & Gorge: Terrace Bay ON
Puaskwa National Park to Aguasabon Falls: 1 hour, 50 minutes 
This beautiful 100-foot waterfall is a must-see attraction and incredibly easy to get to if you're not in the mood to hikes. While there is a hike that can be accessed on the bottom of the gorge, you can also see the stunning sight from a viewing platform.
Where to Stay: Check out iOverlander for an awesome spot in the area!
(Hint: You'll be able to sleep right on the beach of Lake Superior!)
Stop 11: Eagle Canyon Adventures: Dorion, ON
Aguasbon Falls & Gorge to Eagle Canyon Adventures:
Eagle Canyon Adventures features the longest, fastest, and highest zip line, as well as the longest suspension footbridge in Canada. If those heart-pumping activities aren't up your alley, the park also has beautiful hikes through the canyon. The cost was $20CAD per person to gain access to the park and suspension bridges. The zip line costs an additional $60CAD. Definitely pricey, but well worth it for the views and experience!
Stop 12: Amethyst Mine Panorama: Shuniah, ON
Eagle Canyon Adventures to Amethyst Mine Panorama: 
There are few other Amethyst Mines around this area, but we so happened to visit this one. The $10CAD per person admission features a 15-minute guided tour that showcases the mine's history and founders. While not underground, the area has tons of amethyst for you to mine, clean, and bring home!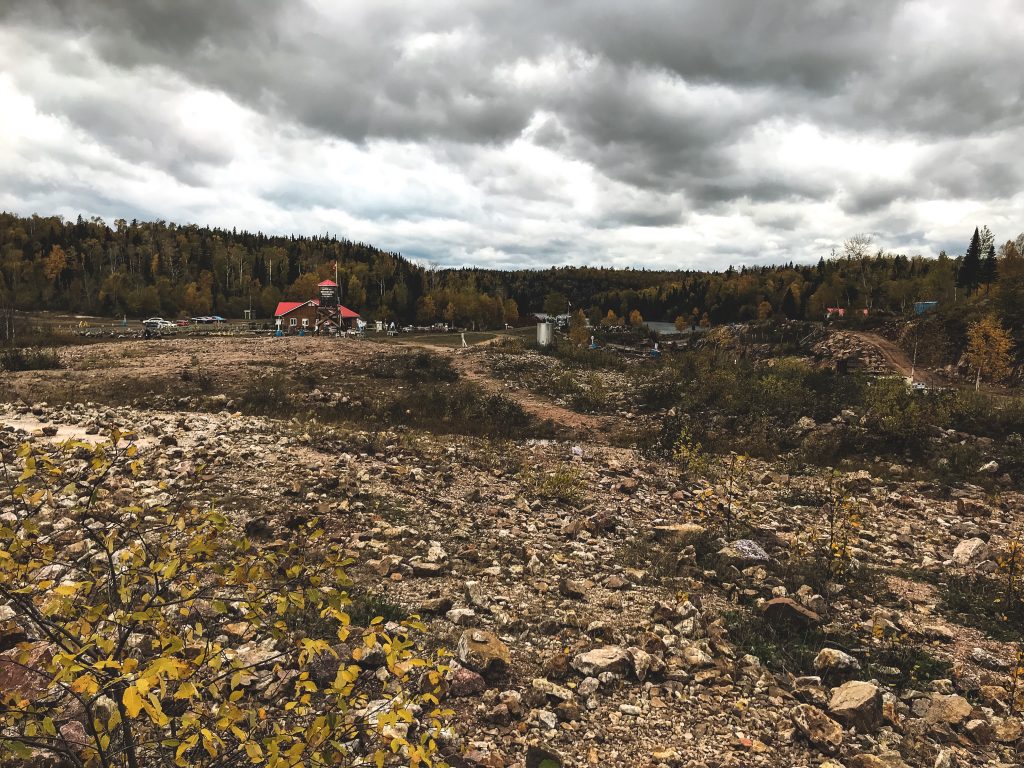 Stop 13: Sleeping Giant Provincial Park: Thunder Bay, ON
Amethyst Mine Panorama to Sleeping Giant Provincial Park: 
Sleeping Giant Provincial Park is home to a campground and beautiful trails along Lake Superior. Hiking trails include anything from beginner to expert. They're most famous for their 5-hour hike that takes you to the cliff tops of the Giant. The Sea Lion is also another short and beautiful hike!
Parking: There parking all around the Provincial Park. It's $15CAD for a day pass and additional costs are included for camping and other amenities.
Final Stop: Thunder Bay, ON
As previously mentioned, Thunder Bay is a great spot to take a few days to rest and visit the local attractions in the area, including Eagle Canyon Adventures, Amethyst Mine Panorama, and Sleeping Giant Provincial Park. Plus, it's a major town and last big one before you head either west into Manitoba or south into Minnesota. This is where we ended our Ontario road trip before hopping back into the US!
If you're looking for more amazing spots to visit in the Thunder Bay area, check out our article Top 5 Attractions in Thunder Bay, ON. 
Do you think we missed any attractions on our Ontario road trip from Niagara to Thunder Bay? Let us know in the comments below!