Getting RV internet and WiFi while traveling or living full-time off-grid can be challenging and a big headache if you don't know where to look. We had absolutely no idea where to start but knew that good internet was a necessity for both of us since we work remotely. Obviously, you can get unlimited plans for your phones, but it's not necessarily that easy when you're looking into it for your laptop! Even worse, if you're the road tripper that enjoys being in the middle of nowhere, getting RV Internet access can be even more difficult.
Fortunately or not, we tried a few wireless plans to see what would work best for our needs. Furthermore, we built the ultimate RV internet system that allows us to grab cell signals from miles and miles away, even when we're in the middle of nowhere!
Our Awesome Off-Grid RV Internet System for our Skoolie
In order to get long-range RV internet, we have a dual setup with two different antenna arrays. These antennas are both very thick in quality with low loss coaxial cables. We also have a router with a sim card slot that the antennas are plugged into.
One set of these antennas is an omnidirectional setup. Omni directionals are generally hooked up at all times and are little radio antennas on the back of our bus. These antennas are the super-powered version of the ones that WiFi routers typically have. Although we're not absolutely positive of the range, we believe it to be several miles and completely out of our direct line of sight. Since the bus is a big metal cage and does not have good reception inside of it, the omnidirectional antenna helps further boost the signal since it's mounted outside of the bus about 99% of the time. However, when we're in very remote locations, we'll have to seek the alternative.
The other set of antennas is a directional setup. We mounted these on top of the bus on a collapsible 8-foot beam. During times where we can't pick up any signal on our network, we turn these antennas towards a cell tower. These antennas have been a lifesaver to the point where we've picked up internet from cell towers nearly 30 miles away!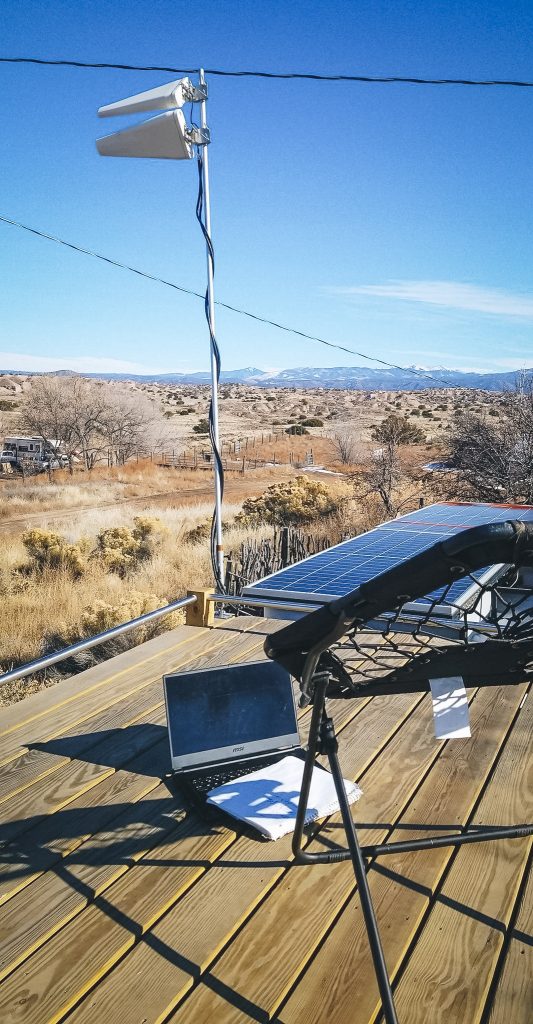 Total Cost for a RV Internet Setup: $797.22
(Our total setup was a bit less…probably a bit over $600. We did shop around a bit at the time!)
Off-Grid Internet Set-Up Parts
1. X2 Lightning Arrestors$34.54
2. SIERRA WIRELESS module MC7455 LTE 4G module $139.93
3. WE826-T2 4G LTE WiFi Router $48.70
4. X2 Directional Yagi Antenna $59.95(2)
5. X2 Omni Directional Antenna $129.95(2)
6. 4-6 Couplers  $16.99
7. Adjustable Antenna Mast $31.27
8. Adapter for Routers to Cables $10.99
9. LMR -400 Low Loss Coaxial Cable: Ntype Connectors on BOTH Ends$135.00
Assembly Instructions for the Router:
https://ltehacks.com/viewtopic.php?t=233
https://ltehacks.com/viewtopic.php?t=233
Additional Options for Your Off-Grid RV Internet Setup
Option 1: Use the router directly out of the box for your RV Internet
Pros: There are few internet and router systems that come straight out of the box. They're much easier to set-up and don't require as much research. The MoFi4500 costs 329.99 on Amazon.
Cons: Several people have reported that the LTE signal reception isn't the best, which is why a lot of RVers move towards a DIY build. Furthermore, it is a fairly expensive system.
Option 2: Get 1 of the antennas
Pros: If you aren't working full-time remote or just don't need Internet that often, then getting only 1 type of the antennas is an affordable and much simpler option!
Cons: If you are planning to do a lot of your traveling in remote locations, this may not be the best option for you. Our omnidirectional works great most of the time, but if we are in a place with no service, don't plan on getting WiFi!
Option 3: Go full-out with a turbocharged, ready-to-go, anywhere setup
Pros: We have gotten internet faster than some of the homes we've been at…in the middle of nowhere! We're super happy with our setup.
Cons: It did require a lot of time and a lot of money to get this system setup. But, we'd like to think it was worth it!
RV Internet Options for US
Verizon
Verizon covers more of the US than any other provider, so our first intuition was to go with them for our skoolie internet. When we went to switching our cell phone plans to Unlimited by Verizon, we came across Verizon's Unlimited Hotspot plan for $20 a month. But, the plan only lets you use 15GB of high-speed 4G LTE data before you're reduced to 600Kbps. If you don't need to use the Internet frequently or don't plan on streaming much Netflix, then this plan could be a perfect choice for you! We only this plan for a couple of weeks before we just couldn't deal with it. Internet speeds were way too slow, to the point where it wasn't even worth having it on. Before we blew through the 15GB, the Internet was great!
AT&T 
Note: The plan that we're currently using has been discontinued by AT&T. So far, our plan has been renewed but we're not sure if this will change in the future. There is word that AT&T may come out with another option since people were abusing the limits. We will keep this article updated if anything changes. 
We are currently using AT&T for our school bus conversion's WiFi. However, this was not the easiest plan to get for a number of reasons. I think David and I went into the AT&T store at least 3 or 4 times to figure this thing out. But, there is a plan with AT&T that they won't technically be able to provide you with in-store. It's an unlimited data plan that is meant for tablets and smart devices. There is technically supposed to be a cap, but they don't enforce it (or at least not that we've noticed).  Don't worry, we'll help you out a bit.
Go check out this link from the A&T website and then click the Tablets and Other Mobile Devices tab. You'll see under the Domestic DataCollect Pass Auto-Renew Plans something called Unlimited MB for 30 Days for $34.99 per month. You can show this to a sales associate at AT&T for proof of the plan to get your sim card. Next, you'll have to sign up for the plan online. The tricky part is that it requires a tablet that we didn't have. If you don't have one, you can go to an IMEI generator online to get a random number for an LTE iPad with an SD slot to plug-in for the plan online at AT&T's website.
The Internet has been amazing for us and we have had no problems so far. Even when we're in the middle of nowhere, we're getting Internet that's faster than when we're at home!
Off-Grid Internet Options for Canada
The Verizon Unlimited Hotspot we originally had when we first went into Canada does offer limited coverage in Canada. However, we did have that issue with quickly using up the 15GB of data and being capped. We needed to come up with a solution quickly if we were going to be able to work out of the United States. Unfortunately, it's next to impossible to get a data plan in Canada unless you have a Canadian credit card. We went with a 50GB Bell plan that was $140CAD including activation. Luckily, David's awesome family from Toronto was able to use their ID and credit card to get us the plan.
FYI – This post may contain affiliate links, which means we earn a commission (at no extra cost to you) if you purchase from them. We only recommend products we use and love. Thank you for your support in helping us travel! For the full explanation on what this means, feel free to check out our Privacy Policy and Disclosure.