Preparation is essential for any outdoor activity, especially camping. If you don't have everything on your camping checklist, you can suddenly find yourself having a not-so-enjoyable trip.
Of course, everyone's camping checklist is going to be different depending on what your planned activities are. Nonetheless, the following camping checklist essentials will help you make the most out of your outdoor trip!
1. SHELTER & COMFORT
✔ Tent
This may seem like an obvious choice for any camping checklist essentials, but you'd rather have it checked off to be safe than sorry!
✔ Ground Tarp
Putting a waterproof ground tarp before you pitch your tent is always a good idea. It helps prevent water from getting through and rocks, sticks, and other debris from tearing the bottom of your tent.
✔ Sleeping Bag
Always be sure to check the weather forecast before you go camping. Determine what kind of night it's going to be – and then use a sleeping bag that you think you'll be most comfortable in. We made the mistake a few times of either packing too warm of a sleeping bag and also packing a sleeping bag that's not warm enough!
Personally – I love being warm. My 0-20 degree sleeping bag is perfect during colder fall and early winter months!
✔ Sleeping Pad / Air Mattress
Sleeping pads and air mattresses allow you to be extra comfortable while sleeping in the great outdoors. We get it…air mattresses are a bit more "glamping". But, if you have the room for it (you're NOT backpacking), then we'd suggest bringing one – the Intex Air Mattress is one of our favorite camping essentials!
Sleeping pads are also a great option They make the difference of getting a good night's sleep so you don't wake up a grumpy mess in the morning (trust me…I have experience with that!). If it's colder out, use an insulated sleeping pad. One of our favorite sleeping pads is the Klymit Statik v2.
2. COOKING NECESSITIES
✔ Food
Ok, of course, you have to bring food, right? But, we can't tell you all the times we've forgotten to pack the essentials, like something for breakfast, and then wind up having to either go hungry or go to a local restaurant or store.
Bring foods that are easy to cook, such as eggs, bacon, soups, and hot dogs. For snacks, don't forget the marshmallows, Hershey Bars, and Graham crackers to make some mouth-watering S' mores!
✔ Drinks
We always pack enough water for the both of us and our dog! We often go hiking so you'd be surprised how fast you go through water. It's also useful to bring for washing dishes, your hands, or putting out a fire.
Don't forget to bring some other drinks. But, remember…don't pack more than you're willing to carry. Drinks can be heavy!
✔ Cooking Utensils, Dishes, & Silverware
You can find a small set of dishes and utensils that are plastic on Amazon for a reasonable price. They're light and super easy to pack.
✔ Camp Stove
We actually have a small, lightweight, and very portable camp stove. This makes it easy to heat up water or a pan for simple cooking.
✔ Cooler
If you're planning on having cold drinks, frozen food, or bringing anything else that needs to be cold, packing a cooler is essential. If you're bringing a cooler, don't forget to buy ice! Yeti Coolers are our favorite. They are super insulated to keep your food and drinks cold for a long period of time. They also have the ability to be almost indestructible, making them great for keeping out bears!
✔ Dish Soap
This isn't as necessary as some of the other items on our camping checklist essentials, but it's still something to think about. If you're going camping for a few days, we'd recommend bringing some dish soap to clean your dishes quickly and effortlessly.
✔ Paper Towels
Paper towels will help with cleaning dishes, your hands, washing your face, and starting a fire.
3. PERSONAL ITEMS
✔ Everyday Clothes
Pack clothes based on the weather. If it's going to be cold out, be sure to pack lots of layers!
✔ Clothes to Sleep In
I have a tendency to forget sleepwear whenever I go camping. If I do remember, they're never appropriate for the weather. Look at the forecast and then determine what to pack. Is it going to be super hot all night/morning? Or freezing? Maybe it'll be in between…no matter what the temperature is, try packing accordingly for the night. It'll make all the difference between you being miserable and having the best sleep of your life!
✔ Appropriate Shoes
You don't need a ton of shoes when camping. One pair should do just fine! It's best to pick a shoe depending on the weather (ex: for rain, you'll need boots) and what your plans are for the current or next day (you may want to bring hiking boots if you're exploring!).
✔ Toothbrush / Toothpaste
We don't like going to bed with unbrushed teeth and I'm sure most of you will agree! You have to add a toothbrush and toothpaste to your camping checklist essentials! They're super lightweight but easy to forget!
4. RANDOM ESSENTIALS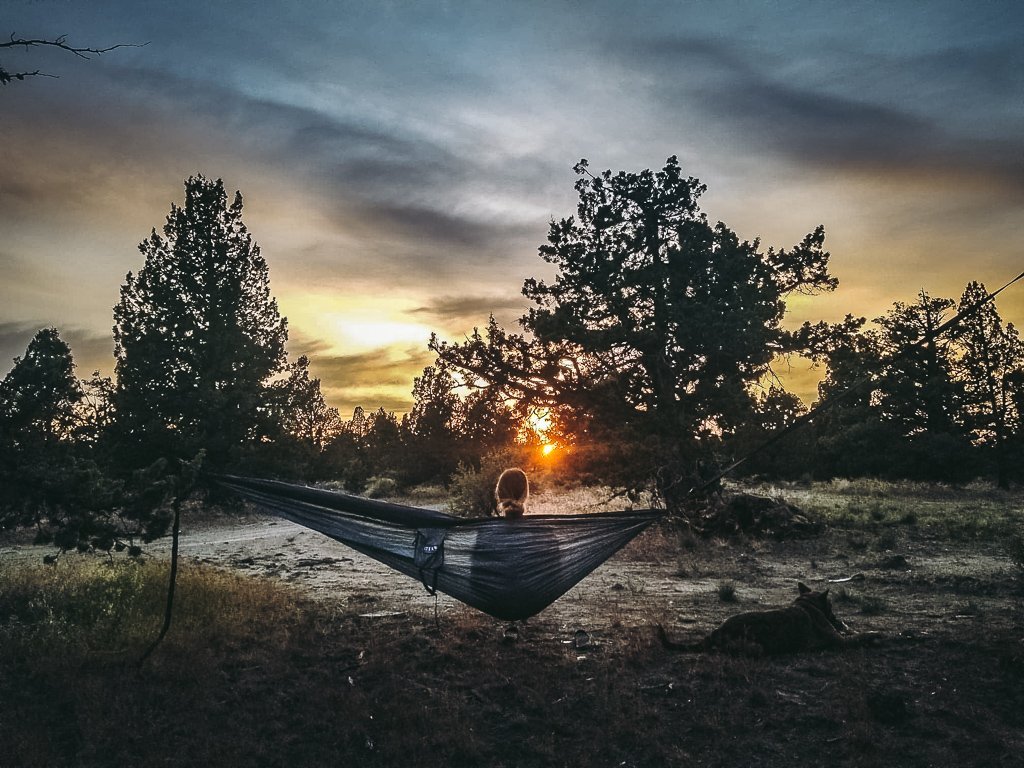 ✔ Head Lamp & Flashlight
My headlamp was such a great investment.  A lot of the newer ones allow you to change the intensity of the light so you won't have to worry about blinding anyone!
✔ Fire Wood
You can generally find firewood at local grocery stores. However, if you go a bit further from town or a campground, you'll find MUCH cheaper firewood!
✔ Magnesium Bar and Flint
I mean…unless you want to do it the hard way! We have a small keychain kit that works great for us!
✔ Lighter
You can buy a pack of 4 Bic lighters off Amazon for dirt cheap!
✔ Pocket Knife
This will be a helpful tool whenever you need to open or sharpen something. It's also a good safety tool to have, just in case of an emergency. Get a pocket knife with stainless steel and a SHARP blade!
✔ Hatchet
That wood isn't going to chop itself! Bring yourself a well-made hatchet that won't break after a single-use.
✔ Bug Spray
Bring some bug spray to try and prevent those nasty, itchy bug bites! Personally, we love unscented OFF! Insect Repellent!
✔ Toilet Paper
This is more for the ladies out there and I've written about the importance of this item before in two of my other articles, the 4 Things You Need To Know When Backpacking Near NJ and When To Go Rock Climbing in Rumney, New Hampshire. If you're a newbie to camping, you'll soon come to discover that not all campgrounds have toilets! And, if they do, they're not always going to be close to your site and DEFINITELY not going to be those fancy ones that flush! Just be prepared!
✔ Hand Sanitizer, Wipes, or Soap
You can either wash your hands with soap or bring a small thing of Purell hand sanitizer. We like bringing hand sanitizer to clean up really quick before bed, eating, etc.
✔ First Aid Kit
Accidents happen…We'd recommend getting a First Aid Kit that contains band-aids, ointment, bandages, and other safety equipment handy in case you need it.
✔ Hammock
Hammocks are easy to set up, light, and compressible. We have an Eno two-person hammock that we set up whenever we can. Similarly, you can find a cheaper and equivalent brand called Eagle Nest. You never know when you'll have the opportunity, so always bring one just in case, if you have it! However, don't worry if you don't have one…it's not the most vital item on our camping checklist essentials!
FYI – This post may contain affiliate links, which means we earn a commission (at no extra cost to you) if you purchase from them. We only recommend products we use and love. Thank you for your support in helping us travel! For the full explanation of what this means, feel free to check out our Privacy Policy and Disclosure.