Every skoolie offers its own design challenges and flaws that you'll have to overcome. With our medium bus "Charlotte", we had the issue of wonky wheel well placements and size restrictions which limited where we could put our skoolie dinette. While we had to give up extra counter space, our skoolie dinette now functions as a place to eat, lounge, nap, or have a dinner party.
Functions of the Our Skoolie Dinette Area
Storage: While performing our initial research, we realized that many people living full-time on skoolies, vans, or RVs had issues with storage. Unfortunately, adding extra storage can also decrease headroom and space within your rig. Our 2 dinette seats have access to storage underneath them. The one seat was built over the wheel well so it has limited room for our extra linens, water bottles, etc. The other seat we've made into our pantry.
Extra Couch Space: The table of our dinette can be lowered down to sit perfectly against the 2 seats. With an extra pillow that we store in our "garage" section of the bus, we can have a 2nd couch. Occasionally, we'll use this feature as a 2nd place to take a nap or read on quiet afternoons.
Pull-Out Features for Extra Guests: David and I wanted to create a space that allowed for us to entertain. Whether it's a dinner gathering or just a night playing Catan, we can easily host 4-5 people. The dinette's table also has a leaf that can be pulled out. Both dinette seats can be pulled out to make room for 4 guests to sit around the table, as well.
How We Built the Dinette
Each of the chairs and the table are 2'x2′. These are the minimum comfortable seating requirements for a dinette that drops into a bed.
The dinette seats were built out of 3/4″. plywood with hidden pocket holes for support. This mitigated the need for any additional supports in the chairs. Using a chair-over-chair design, the top of the seats can flip up for storage or expand with a hidden seat underneath for additional seating. The seat portion of the inner set folds up on a hinge and is stored in the backside of the seat. We used multiple hinges to swing behind and out of the way of the outer seat. This was not the easiest design, but we wanted the seats in the folded-out position to be one height while stored in the backside. Each chair has 6 regular-sized hinges and 4 smaller hinges for the lids.
Special thanks to Romeu Rei (@romeurei) for the design! He has a great build, inspired ours from the start go check him out.
To keep the table upright, we used a removable table leg that we got from an old camper. We secured the table to the wall with a heavy-duty French cleat that is usually used for mounting pictures. The inner leaf was made from 3/4″ wood and uses extendable drawer slides for support when fully slid out. The table leaf also slides and stores inside the table. Both the table and leaf were stained.
The dinette seats were primed and painted with Behr Premium Silky White paint from Home Depot. We then did a finishing coat with Varathane Polyurethane to prevent scratches and dirt build-up.
Materials We Used for the Build
Behr Premium Silky White Paint (Home Depot)
Dap Painter's Caulk-White – $9.25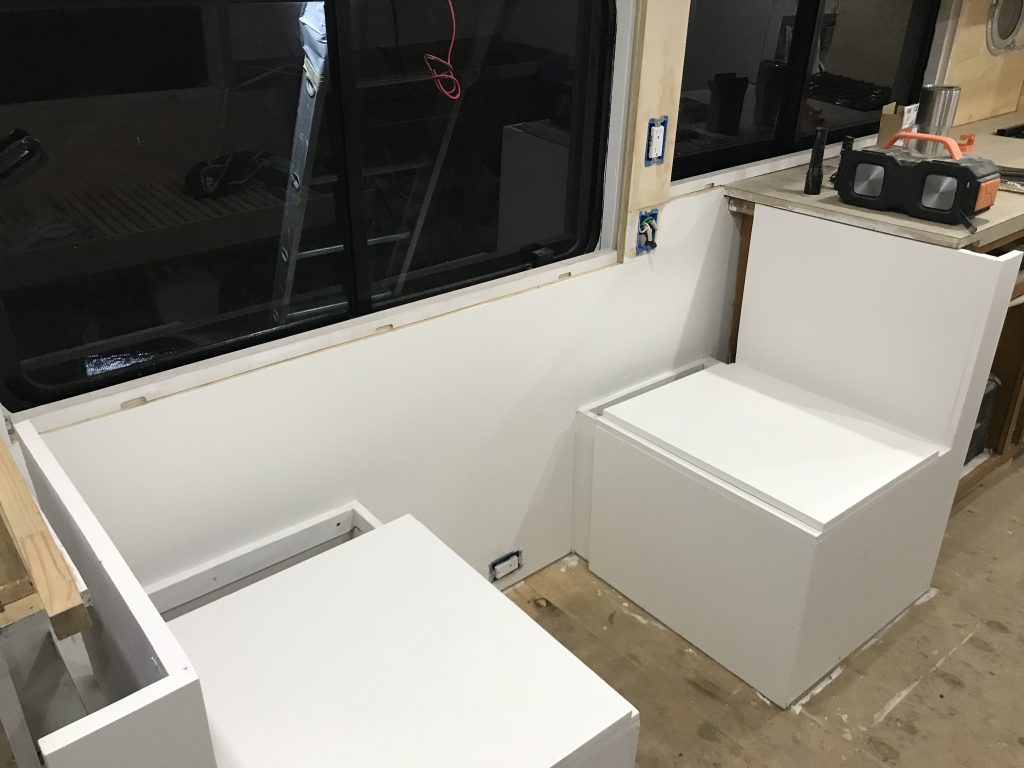 Overall, our dinette space has been a great place to have guests while also having the extra storage. However, the dinette can be a bit uncomfortable to sit on for long periods. To fix this, we could've better angled the seats and gotten cushions greater than 2 inches. Additionally, our table is rather small. While we only had so much room and had to build it to our specs, having a bigger table would've been convenient (and that's coming from 2 people that do a lot of their work online.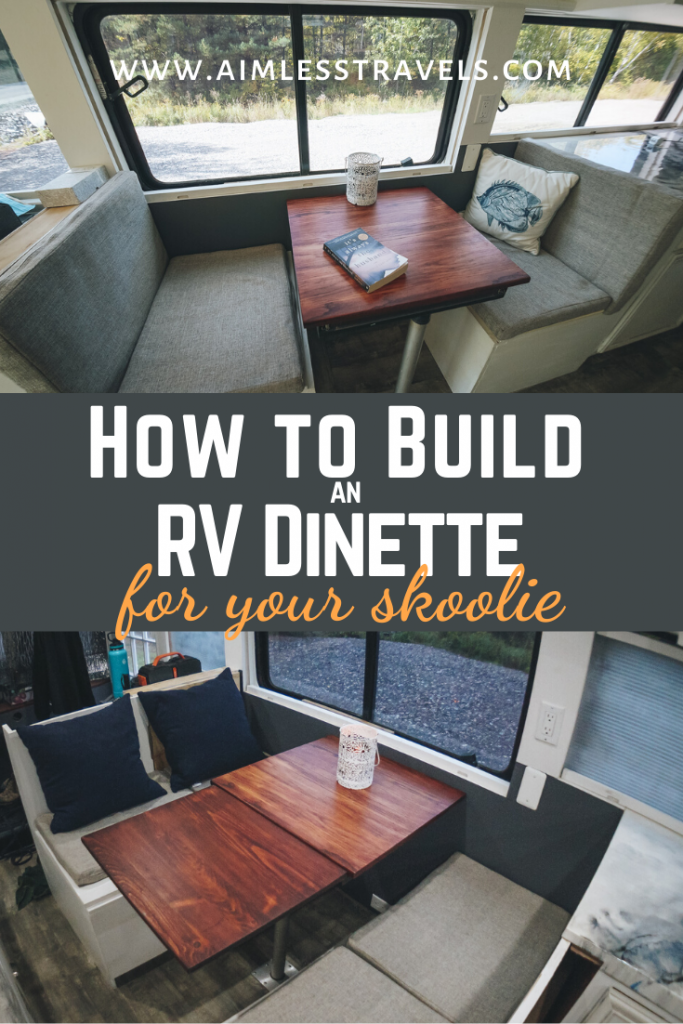 FYI – This post may contain affiliate links, which means we earn a commission (at no extra cost to you) if you purchase from them. We only recommend products we use and love. Thank you for your support in helping us travel! For the full explanation of what this means, feel free to check out our Privacy Policy and Disclosure.