If your main goal is to boondock and camp in remote locations, then composting toilets are usually the way to go. Composting toilets offer a TON of great features, including their water conscious, black-waterless, and environmentally friendly designs.
Unlike your everyday toilet, composting toilets have no flushing involved and do require a bit more maintenance. They depend on aerobic bacteria found in peat moss, coco coir, and other soil-like materials to break down waste. We usually find our media for the toilet either on Amazon or Home Depot. Coco Coir can also be purchased at Petco!
There are several composting toilet systems to choose from depending on your needs. They all have the same basic features which include the use of electricity, a composting container, an air and exhaust system, and an access door for emptying.
Below, you'll find 2 of the most popular, ready-to-go composting toilets that many people use in their motor homes, boats, or skoolie conversions. You'll also uncover the benefits of building your own composting toilet…and why we regret not doing so!
FYI – This post may contain affiliate links, which means we earn a commission (at no extra cost to you) if you purchase from them. We only recommend products we use and love. Thank you for your support in helping us travel! For a full explanation of what this means, feel free to check out our Privacy Policy and Disclosure.
Pre-Made vs DIY Composting Toilets
Are you at that point in your build where  you're thinking, "I don't have the time to build a composting toilet, but I still need a toilet?" It's okay, we've all been there…especially us. While we wish we would have built our own composting toilet, there are perks to buying one that's ready to go when you purchase it.
Advantages of Buying One: You're obviously going to be saving a ton of time by buying your own composting toilet. There are so many options on the market that all work equally well depending on your own specific needs.
Disadvantages of Buying One: The urine tank on composting toilets are so small and fill up quickly, especially if you have more than 2 people You're going to find yourself having to dump it regularly. The urine tank is our least favorite thing to dump from that toilet, so being that we have to do it often kinda stinks (…literally). Additionally, the ready-to-go systems are expensive. The AirHead is $1,029 and the Nature's Head is $960 (and can be purchased on Amazon, which is always a bonus!).
Nature's Head vs. AirHead Composting Toilets
We currently have AirHead composting toilet in our school bus conversion and we are glad we went with this choice over Nature's Head. They both serve the same purpose but differ in size and features. Everyone's different, but we felt AirHead checked more of our boxes for the following reasons:
Larger Urine Tank: These urine containers fill up SO quickly while on the road, especially when you're doing it full-time. The AirHead composting toilet offers a half-gallon more in their urine containers. Additionally, you can separate the urine tank from the toilet without disturbing the waste compartment (aka you don't have to look at poop every time you dump the tank).
Seat  & Lid Gaskets: These help prevent insects from getting into the toilet compartments while simultaneously reducing odors of the fan stalls.
Better Suited for Small Spaces: The AirHead composting toilet comes with a more compact mixer crank and round base as opposed to Nature's Head's square base and wider top of 16.6 inches. This allows it to be better suited for smaller spaces. Our bathroom in our skoolie is small so we wanted all the space we could get.
2-Year Warranty: In case anything goes wrong, AirHead offers a 2-year warranty over Nature's Head's 1-year warranty.
Liftable Seat: This is probably David's favorite feature: It allows for both seats to be lifted for men! And, don't be concerned women. The toilet is also designed specifically with ladies in mind, too!
Overall, we are happy with our AirHead toilet. I think the biggest down-size has to be how often the urine container needs to be dumped.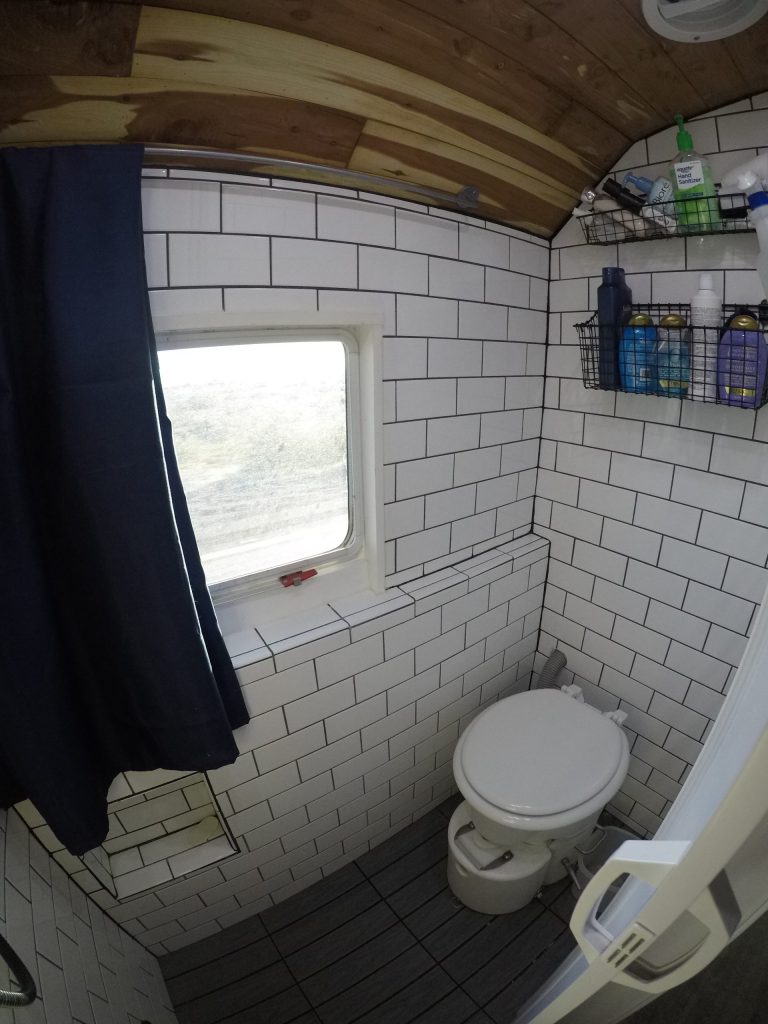 Separett Villa 9215 Urine Diverting Toilet
This unique-looking toilet separates urine and solid waste to reduce smell and the volume that must be handled. There's a screen that covers the solid waste container and rotates to evenly distribute its contents.
If you have children, you can purchase an additional child's seat that can be attached to the toilet.
This toilet does not require the addition of bulking material which makes it feel a lot more like a regular toilet. In addition, you use a biodegradable waste bag that sits in the container. All you need to do is throw it away after use, making the cleaning process a lot more manageable.
One of the biggest perks? Many users plumb this toilet directly into their holding tanks, eliminating the need for a liquids container. This toilet sounds a lot more hassle-free!
Sun-Mar Compact Electric Waterless Composting Toilet
The Sun-Mar is compact, electric, and a bit more expensive when compared to the others. It's designed for seasonal use in a rig with up to 3 adults. The toilet requires you to mix and aerate the materials every few days and the addition of bulking material per person per day.
Many users suggest that the customer service isn't great, but the installation is easy and it still eliminates that need for a black water tank.
Loveable Loo Starter Kit
Okay, don't expect much out of this bad boy. But, if you're on an extreme budget and just looking for a low-tech solution for your "stinkin" needs with no water, electricity, plumbing, venting, or chemicals, this is the perfect option!
It's really just a bucket inside of a wooden box with a toilet seat on top. You can add whatever composting material you want with your solids.
DIY Composting Toilets
If you have the time and resources to build your own composting toilet, I'd strongly suggest doing it. During our experience, we found that having to change the liquids so much was a huge inconvenience.
While we haven't built our own yet, we did meet Kelly and Thomas from @roamingwilsons who had a great homemade composting toilet. It's is a simple bucket setup with a urine diverter. Separett actually makes a toilet seat with the urine divereter included for $159 on Amazon. The urine, as well as their shower and sink water, is plumbed into a 40-gallon gray water tank. To empty it, they just visit a dump station. Their composting setup also consists of a hepvo waterless trap between the urine diverter and a gray tank to reduce odors and liquids from traveling back out through the toilet. Similar to what we use for our composting toilet, they use a 50/50 mixture of peat moss and coco coir bricks.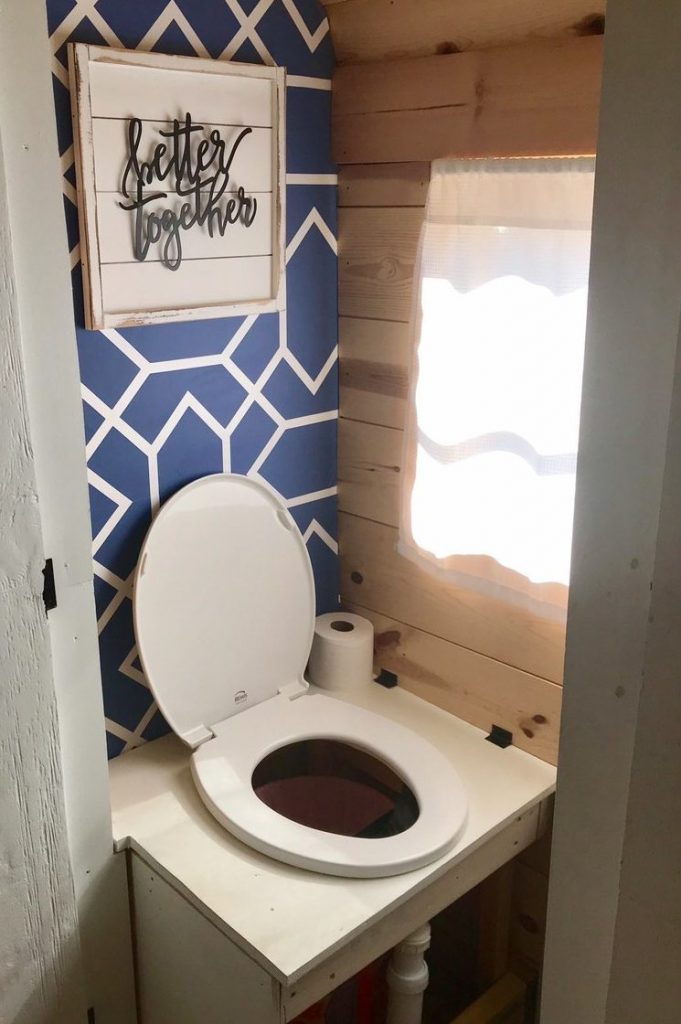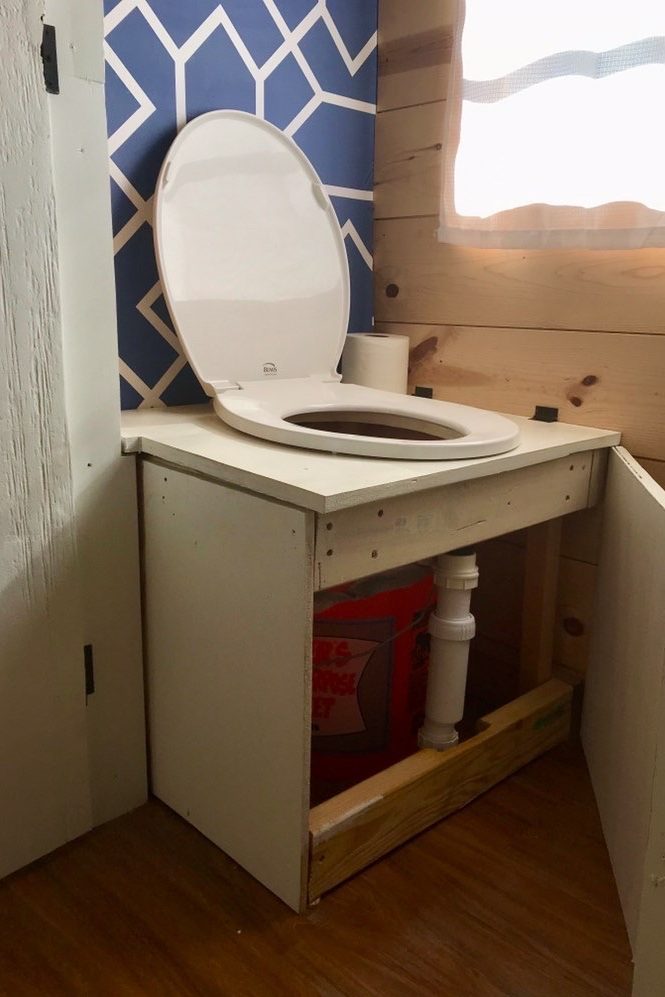 Follow Kelly and Thomas on YouTube and Instagram to see more of their awesome build!