As more and more of the country becomes interested in living life alternatively on the road, mid-size skoolie conversions are also increasing in popularity! Can you really blame anyone? Mid-size skoolies are a great way to build memories while experiencing all of the beautiful locations throughout the country.
Medium-size skoolies fall between 25-35ft in length. They have many of the same features of a full-size skoolie, but a bit more maneuverable. While mid-size buses are a bit tougher to find for sale, they are a fantastic option for 2 or more people.
Mid-size skoolies offer an ideal length that's perfect for converting the rig into a stunning tiny home. Conversions in this length are packed filled with innovative features and many of the comforts of the "normal-sized" home.
Ready to see some of our favorite mid-size skoolie conversions? Whether or not you want to convert a bus of your own, these skoolies will be sure to impress you!
1. Aimless Travels: 2002 Thomas Built Saf-T-Liner EF "Charlotte"
Shelby and David (hey, that's us!) bought their bus in November 2018 from Charlotte, North Carolina. The Thomas Built was originally used on the Robins Air Force Base in Georgia. The bus cost only $6,000 and the renovation was approximately $30,000. Since September 2019, the couple has been living and traveling full-time around North America in their medium-sized skoolie!
Length: 26 feet
Favorite Parts About Our Build: We wanted to jam-pack as much as we could into our build as we possibly could. It was incredibly rewarding for just o to strengthen our building, plumbing, and electrical experience together. On top of that, David got to engineer an assortment of systems into such a small space including a 1400watt solar setup, Tesla battery, recirculating shower concept, radiant heated floor, air conditioner, and so much more. In addition, we wanted to make sure everything was super multi-functional. Our dinette design functions as storage, a workspace, seating space for 4, and a couch.
What They'd Change: If we were to do another build, we'd go simpler. On top of the potentially changing the complexity, we would want a permanent full-size bed setup. We were forced to design our layout in a way that allowed us to have a toilet and shower. As a result, our bed in the back is pushed in during the day and pulled out into a full-size bed at night.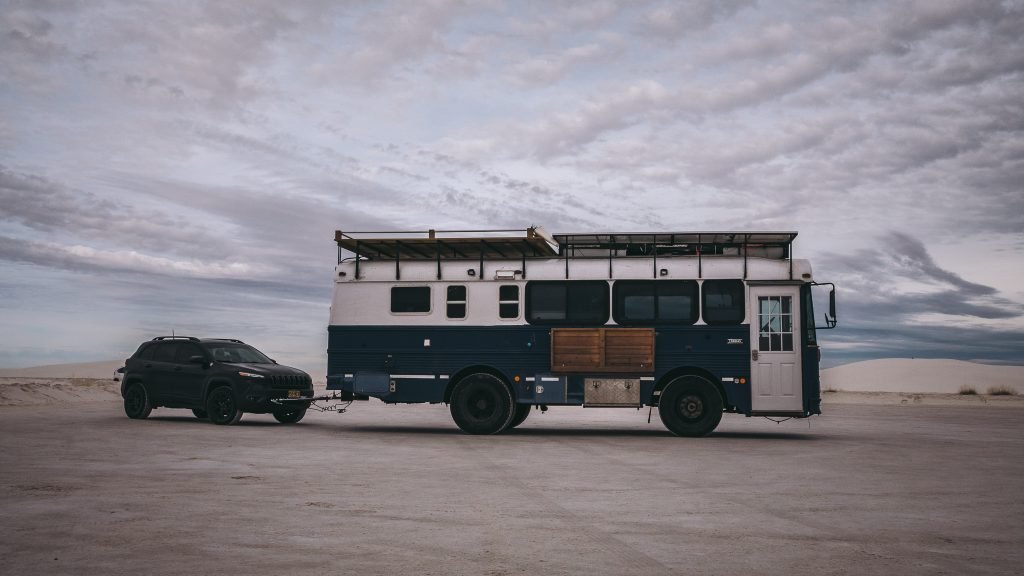 Sarah and Chris purchased their mid-size skoolie for $4,000 in November 2018. Originally, the bus was used as a school bus in Virginia Beach, VA. The total cost of renovations was $23,000 which put their total cost at $27,000. This beautiful build and layout was thought out by the couple before they even began their build.
Length: 30 feet
Favorite Part About Their Build: Sarah and Chris really love everything about their build! Our favorite part of their build is easily the hidden coffee-bar concept that they implemented!
What They'd Change: Sarah and Chris both agree that adding an extra air conditioner would have probably benefited them. Buses are notorious for getting hot, even during the cooler summer months. They currently have a small air conditioner in the back bedroom that keeps the bedroom area nice and cool. However, their front desk area gets really hot. Soon, they hope to implement window screens to allow for some fresh airflow while keeping bugs out.
As with most short and mid-size skoolie conversions, it took a lot of designing and brainstorming to fit everything into their build. Fortunately, they were able to integrate all of their necessities including a unique design for a table area that functions as a desk, eating area, and storage. Sarah and Chris's build also features shoe storage under the footrest area and a 50″ TV that pops up from behind. Their goal was to make everything have more than one purpose – and I'd say they did an incredible job at doing that!
Follow Sarah and Chris from Skoolie Livin on Instagram and on their website at www.skoolielivin.com!
3. Kelsandjay: 2001 Thomas Freight Liner School Bus "Betty"
Kels and Jay took 8 months during weekends and evenings to convert their Thomas Freight Liner bus into a stunning tiny home on wheels. Besides the wonderful exterior design, their bus is jam-packed with detail and a well-done roof raise. The bus was purchased for $5,000 and their renovation was about $18,000 plus an extra $3,000 for mechanical repairs. While their bus falls toward the lengthier end of the mid-size skoolie range, I think they still deserved a mention on this list. Wouldn't you agree?!
Currently, Kels and Jay are enjoying the newfound freedom their mid-size skoolie has given them to pick up and go anywhere with all their home comforts right with them.
Length: 35 feet
Favorite Part About Their Build: Kels and Jay's favorite thing about the process was learning how to leverage their creativity to build their project together. On the physical bus, they really loved their unique fold-out table.
What They'd Change: If they had more space, they would've loved to put a sink into the bathroom. In their opinion, it's a bit cumbersome (and gross) to have to keep using the kitchen sink for brushing your teeth. Additionally, they'd look into getting their roof raise professionally done as it wasn't the easiest thing to accomplish with little experience.
Follow Kels and Jay on Instagram and YouTube channel!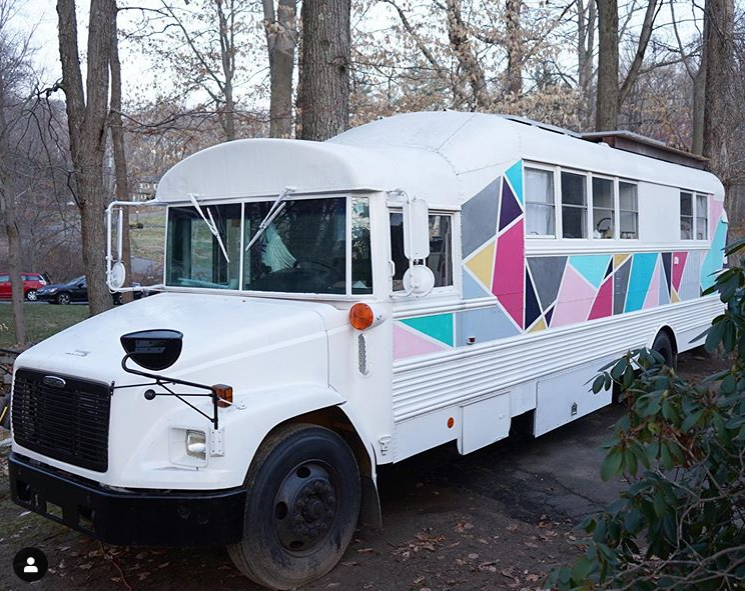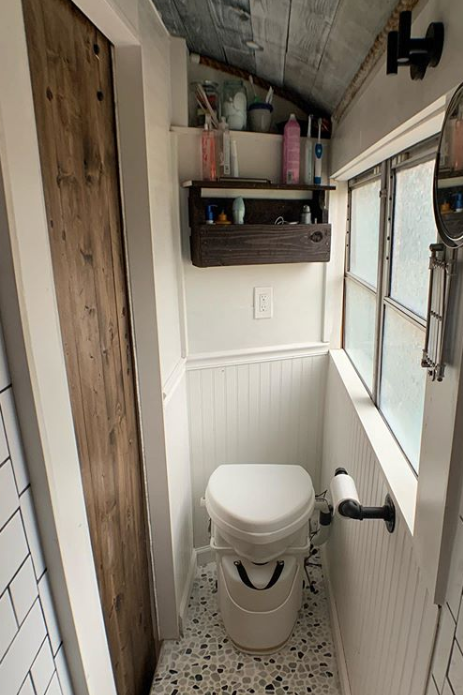 4. Number Juan Bus: 1992 Blue Bird Airforce TC2000 "Juan"
Will, Kristin, Roam (baby girl), and Rush (fur child) have been on the road full-time since April 2019. Originally from Jacksonville, Florida, the family began their journey traveling to the Florida Keys to Nova Scotia, Canada. With their beautiful mid-size conversion, their goal is to hit all 4 corners of North America.
The family finds their medium-length skoolie the perfect size! While they wouldn't want a bigger bus, they would actually consider a smaller one if they decided to do another build-out.
While they planned for a year, the build wound up taking them about a year and a half to complete. Of course, they were by no means not busy! During that time span, the couple got engaged, married, had a baby, and were both working full-time.
The initial cost of the bus cost $8,000. While it may seem pricey, it was in incredible condition and reliability is so important when you're living on the road.
In total, including the bus, the bike on the back, and the entire build, they spent $30,000.
Length: 31 feet with an extended bumper
Favorite Part About Their Build: While they really love their entire build, their kitchen countertops are really their favorite. They are made from reclaimed wood from the Jacksonville Beach pier. Before leaving on the road, Jax beach was what they called home. They found the pieces of the pier after Hurricane Matthew destroyed it. If that's not cool enough, the family also hid shark teeth in the pier pieces since it was a hobby of theirs when they lived at the beach. Now, they get to take a little piece of home wherever they go!
What They'd Change: If they could do one thing differently, they'd probably turn their bed vertical to avoid having to constantly climb over each other.
Follow Will, Kristin, and Roam on Instagram and YouTube channel!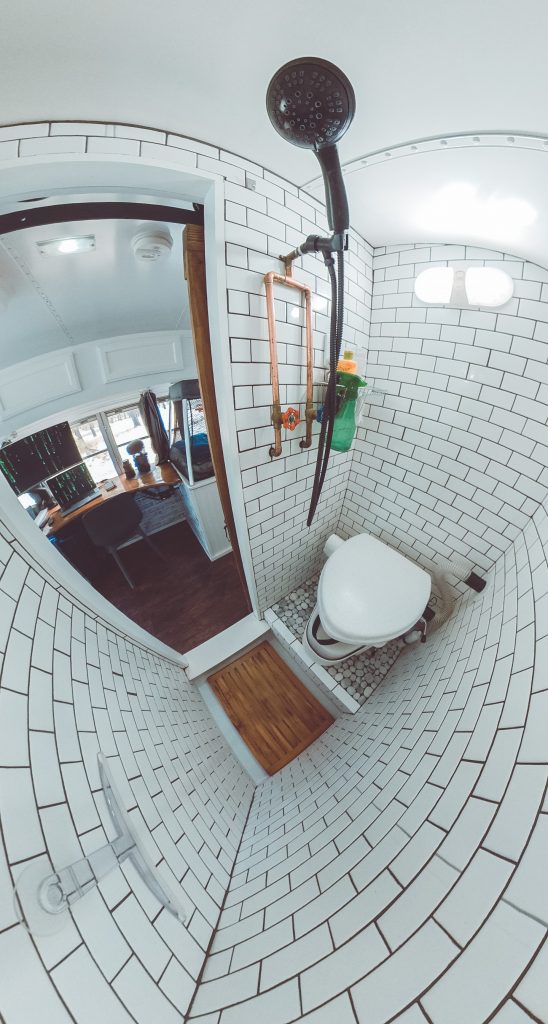 Doug and Sarah are Oregon residents who are dreaming about living life full-time on the road. Their bus actually has a bit of an interesting story. Their son actually bought the 1990 International during his junior year of high school for $100. With a trade of a Harley Davidson motorcycle, the bus was officially theirs to do with how they pleased!
The couple started building their skoolie in March 2019 and finished 3.5 months later in June. With the most expensive components of their conversion being new wheels, a composting toilet, and refrigerator, their build renovation only cost them $5,500! I'd say the end results came out pretty amazing, right?!
Currently, Doug and Sarah's favorite parts of their bus include the roof deck and side table.
Length: 28 feet
Favorite Part About Their Build: Doug and Sarah's favorite part of their build was everything following the demolition process. It's when they officially began seeing their vision come together which was incredibly rewarding! In addition, the couple got to learn and work together on the entire project.
What They'd Change: Sarah would've readjusted the layout to include hallway to the bedroom on one side rather than right down the middle. Doug would have added additional outlets.
Their setup includes an outdoor shower with instant hot water. However, if they could have gotten a bigger bus, they would have loved to build an interior shower!
Follow Forrest & Fiona on Instagram!
Have a mid-size skoolie that ranges between 26-35 feet and want to be featured? Reach out to us via email ([email protected]) or social media!