Are you planning a trip to the Badlands National Park in South Dakota, yet? Well, you definitely should be, even if you've been before! The landscape of the Badlands National Park is extremely vibrant with beautiful rock and sand formations and the largest undistributed mixed-grass prairie in the United States. Whether it's the formations or the animals you'll encounter, there's bound to be something that makes your mouth drop!
The Native Americans used to call the area "mako sica" or bad land due to its harsh climates. However, the Badlands were and still are home to a variety of animals including Bighorn Sheep, Bison, Prairie Dogs, Coyotes, and Bobcats. According to fossil reports, the location was also home Rhinoceroses, Alligators, Camels, and Horses many many years ago!
We spent a few days in and around the Badlands National Park and Buffalo Gap National Grasslands and noticed a few things that we LOVED and know you'll want on your To-Do list while in the National Park!
1. Don't miss Wall Drug…or you'll never forget it!
Okay, whether or not you are on the road now or will be soon, you will see signs for Wall Drug for hundreds of miles. Since you've been staring at the name for a while, be sure to stop inside! There are plenty of shops in Wall Drug and it's a great place to stop and stretch your legs.
2. Take the Badlands Loop Road to travel through the park.
You'll start your drive on the Badlands Loop Road in Wall (aka Wall Drug!) and drive south on Highway 240 where you'll find plenty of places to stop, hike, and view the Badlands National Park. You'll also pass the Ben Reifel Visitor Center, so be sure to stop inside and get a stamp for your National Parks Passport!
3. Catch a sunset at Badlands National Park
Our biggest recommendation is to go to Badlands National Park during the evening. The way the light hits the rocks brings out their most unique and beautiful qualities. If you're already there, think of heading to a lookout spot to watch the sunset over the Badlands and prairies (Norbeck Pass, Pinnacles Overlook, Conata Basin Overlook).
4. Quickly head over to Buffalo Gap National Grasslands
As you may or may not know, Badlands National Park does not permit pets on any trails in an effort to not disturb wildlife. With that being said, pets are welcome to stay in the car while you drive through the park if you don't plan on going on a hike! Regardless, if you need to get your pup some much-needed exercise, head right out of the park to Buffalo Gap National Grasslands. It is accessible through a dirt pathway and you can pretty much park anywhere over there, or park overnight if you're into a wonderful boondocking spot!
5. Check out the Prairie Dogs
There are TONS of adorable prairie dogs hanging around at Robert's Prairie Dog Town. You will see hundreds of burrows and barking prairie dogs all over the place! It's a blast to watch them socialize and "talk" with each other.
Quick Note: Prairie dogs DO carry and disease and DO bite! Try to keep your distance, even if they look adorable and harmless!
5. Sight-see at Yellow Mounds Overlook
For millions of years, erosion has occurred on the Badlands and revealed layers of different colored sedimentary rock with purple and yellow (shale), tan and gray (sand and gravel), red and orange (iron oxides), and white (volcanic ash). This part of the park features brightly colored yellow rock that actually used to be the floor of an inland sea. Once exposed to air, it turned into yellow soil. They are considered the oldest layers of rock in the entire park!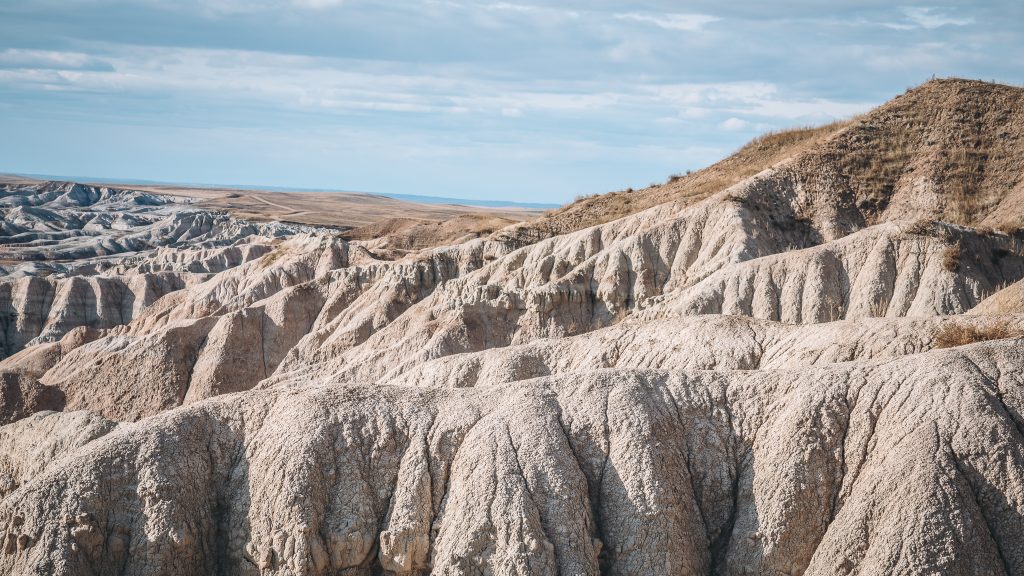 6. Find Some Free-Roaming Bison, Bighorn Sheep, or Coyotes
Of course, you can't visit the National Park without seeing a Bison or other types of wildlife! You'll see Bison and Bighorn Sheep all over the place while driving, even as close as next to your car door. Just be careful to keep your space from all animals. Bison will charge, especially during breeding season! They are also 3x faster than you, so forget about outrunning these massive animals!
7. Take a Hike on the Notch Trail in Badlands National Park
Unfortunately, we had to miss out on this hike since we had our dog with us. However, we've heard amazing things about the popular Notch Trail, so it's worth including! The 1.5 miles moderately strenuous trail features exciting obstacles including a ladder and a walk on the cliff's edge. While maybe a more difficult hike, the views are apparently out of this world!
If you're interested in seeing some more awesome shots we got while visiting Badlands National Park (yes…we take A LOT of pictures, LOL), check out our Photography article!