When we first decided to look into buses for our conversion, we were quickly overwhelmed by all of the school bus sizes available. We learned that every skoolie size has its perks and disadvantages and what is right for you may not be the best option for someone else. We'll share the 3 most common school bus sizes, their perks, and some of our favorite skoolies in that length.
The 3 primary types of school bus sizes include:
1. Short Buses 
2. Medium-Size Buses 
3. Full-Size Buses / Coach Buses 
Short Buses (20-25ft)
Short buses could be a viable option for you for a number of reasons. For one, a smaller bus is more maneuverable than some of the lengthier skoolies. In addition to being a bit easier to drive, they can fit into most parking spots. This makes it simpler to run errands.
Ideal Candidate: Short buses are great options for 1 or 2 people. They're also a good choice for someone not interested in towing an additional car or looking to get into harder-to-reach boondocking spots.
Downsides: While maneuverability is definitely a bonus, you will be giving up a significant amount of living space on a short bus. In addition to the loss of space, you may have to make compromises to what you want in your build. For example, many short buses may not have a toilet or shower.
Skooliana: Isaac lives in a 21 ft. 2003 Ford E450 7.3L Diesel short bus. While he definitely thinks the school bus size meets their needs, he wishes he could've added a bathroom and shower.
Medium-Size Buses (25-35ft)
Mid-size skoolies are a happy medium between a short and full-size bus. They offer plenty of interior room and come with most (if not all) of the same features of a full-sized bus including style, wheel size, and engine.
Ideal Candidate: Mid-size school buses are ideal for 2 people, pets, and even children if you don't feel too concerned about space restrictions. While also being a bit easier to maneuver than a full-size, medium buses can also be somewhat easier to get into tighter off-grid spots.
Downsides: Based on our personal experiences, one of the major disadvantages of a medium bus is that they don't fit in one parking space. Another disadvantage is that mid-size buses are harder to find and more expensive.
Charlotte (Our Bus Build): Charlotte is a 2002 Thomas Built bus and is approximately 26 feet long. For most of our travels, a Jeep Cherokee was towed behind the bus, as well. Our mid-size skoolie features almost everything we could possibly want in a "home" including a toilet, shower, heat, air conditioning, 2 full-size beds, and a full-size kitchen.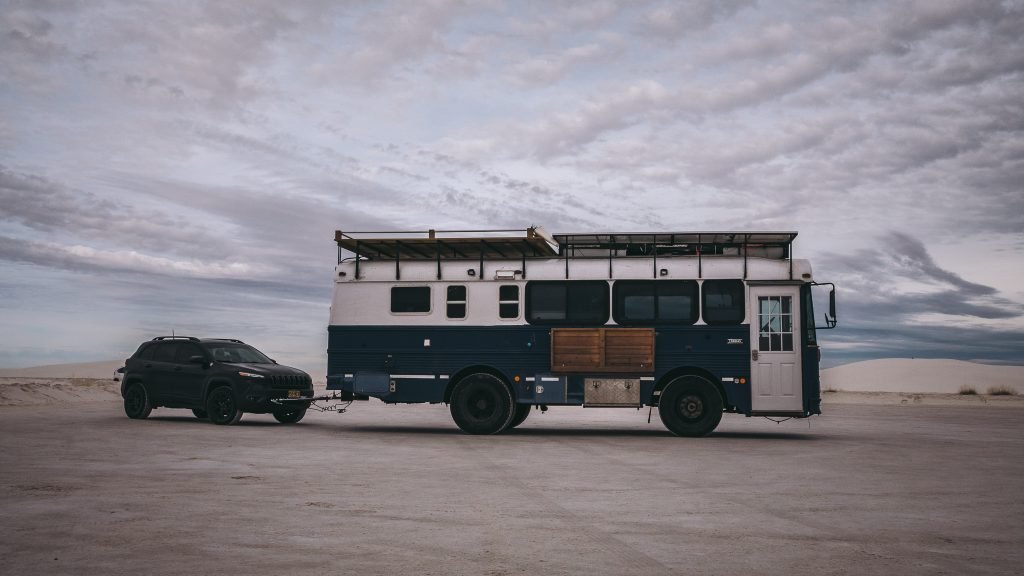 Full-Size Buses (35ft+)
If you're looking for a design template with tons of room, getting a full-size school bus or coach is the way to go. There's plenty of affordable full-size buses on the market. But, there's definitely going to be a learning curve to driving one, and finding parking isn't as easy.
Ideal Candidate: A full-length school bus size is perfect for 3 or people. We've even seen 8 people live in a coach bus before! While coaches aren't technically a skoolie, they do reach 45 ft. in length and generally have decent headroom.
Full-size buses could also be a great option if you're not looking to do much boondocking and would prefer to use your towed car as a primary transportation vehicle.
Downsides: Full-size school buses can reach nearly 45ft in length. This makes the learning curve to drive them a lot more difficult. Driving a skoolie definitely takes some getting used to, especially if the vehicle you purchased has air brakes. Additionally, a full-size school bus is going to have difficulty finding parking, especially in more populated towns and cities. A lot of people with lengthier buses are known to tow a vehicle as another means of running errands.
8people3dogsandasnakeonabus: The Evans family started their bus journey with 8 people, 3 dogs, and a snake. But, since their start date, one of their daughters graduated and 2 of their dogs passed away, so now they're traveling with 7 people, 1 dog, and a snake! They have a 40′ MCI MC9 Crusader 2 from 1986 and the family absolutely loves its!
The space is definitely manageable. The family found a rough adjustment period in the beginning, but they have been able to adapt.
Even when there's poor weather or can't get outside as much, they have room for everything they need and little parts of the bus that they can all have a chance to escape to. They actually don't think they need more space. They have room for everything they need and they even found themselves throwing away things! Every person has a private area of the bus and plenty of space to commune.
The Evans family chose a coach over a school bus for a few reasons. School buses don't offer much headroom without a roof raise and the family was on a timeline. Additionally, the coach offered more cargo space with the storage bays making it possible to hold water tanks, battery banks, etc. without having to build boxes into beds, etc. The cargo bays also open up more spare footage, floor plan options, and extra storage. And, the last perk: There are no wheel wells to build around!
Other Factors to Consider When Choosing School Bus Sizes
Calculating Sq. Ft. of a Bus – Unfortunately, most listings for used school buses will only include passenger capacity, but not total length or interior square footage. To get a better idea of what size the bus is and ensure that it adheres to your needs, you're going to want to count the bus windows.
Each bus window is about 2.5 feet and about 7.5 feet in width. To get an even more accurate number, you can bring a ruler and measure before purchasing a bus. To find out the square footage, you'd simply multiply the number of windows in the skoolie x 7.5 x 2.5 to get the square footage.
Where is the Engine Located? – Dognose and flatnose school buses both have different amounts of room in their interiors for obvious reasons. While some buses house their engine in the front, others house their engines in the back. This may affect the total square footage of your bus. Additionally, it may affect where you can put storage into your skoolie build.
Where Will You Convert Your Skoolie? – Depending on where you live, building out your conversion may not be possible on the side of your road or even in the driveway. Most HOA properties are strongly against RVs or campers in driveways or on the streets, especially if they're a bus.
In New Jersey, we were not allowed to park the bus on the street for long periods of time, even outside of an HOA. We wound up converting our skoolie on a large piece of property at a friend's residence.
It's really important to call up your township and talk about the specifications. Purchasing a smaller skoolie may be a better option if the space that you're building it on is limited.
Differences in Cost Based on School Bus Sizes – Let's be honest here: You can find an affordable bus for an incredibly affordable price. It just depends on how long you're willing to wait and what exactly you're looking for.
Mid to full-size buses range from $2K-$5K. Our 2002 Thomas Built mid-size bus was $5K with 86K miles, which we thought was a fantastic deal.
Short buses range from $5K-$8K and also tend to be a bit newer. The cool thing about short buses is that you can also find them in AWD if you look hard and long enough!
These are just estimates and I can guarantee you'll find an outlier that is below or above those numbers. While longer buses may appear to be cheaper with the upfront cost, the conversion expenses will most likely be more than a short bus conversion because you're dealing with a larger space.
In addition, maintenance costs may vary depending on the school bus sizes you're working with. For example, finding a mechanic to work on a Ford is going to be easier than finding someone for our Diesel skoolie. A longer bus also requires bigger bays and may cost more to tow.
Want to know more information about purchasing a great bus that meets your needs? Check out Choosing the Right Bus for Your School Bus Conversion.