Meet Heather, Jake, and their DIY sprinter van build, "Lady Liberty" from Goandlivefree. We have been following this amazing couple for a while now and couldn't help but reach out and interview them. Once you see the pictures of this amazing sprinter van build, can you really blame us?!
For such a small space, Jake and Heather literally jam-packed this rig with storage, the ultimate remote office space, a large kitchen, and a bathroom while creating a visually appealing and warm space.
Enough chit chat…let's dive into the history behind this '08 Sprinter van build.
FYI – This post may contain affiliate links, which means we earn a commission (at no extra cost to you) if you purchase from them. We only recommend products we love and review. Thank you for your support in helping us travel! For the full explanation of what this means, feel free to check out our Privacy Policy and Disclosure.
How much experience did you have going into your build?
NONE! Jake did the entire build on his own and learned most of what he needed to know from YouTube! (Amen to the van lifers who came before us!). We knew nothing about van life or how to do a custom sprint van build.
I (Heather) had stumbled across an Instagram account of a guy living out of his van and showed Jake who was so intrigued. I remember him saying "Let's do it!" and I was just like "Okay, I'm here for this!". Once Jake gets hooked on something or the idea of something, he dives in head first.
We had a lot of conversations about what we wanted out of life, where we were headed as a couple, and what it meant to truly live a life worth living. Ultimately, we decided that van life was our ticket to a life that we wanted to live. So, we started searching for our van! Luckily, Jake is super handy and a huge DIY-er, so I knew that he would be to give us a sprinter van build of our dreams and man did he deliver!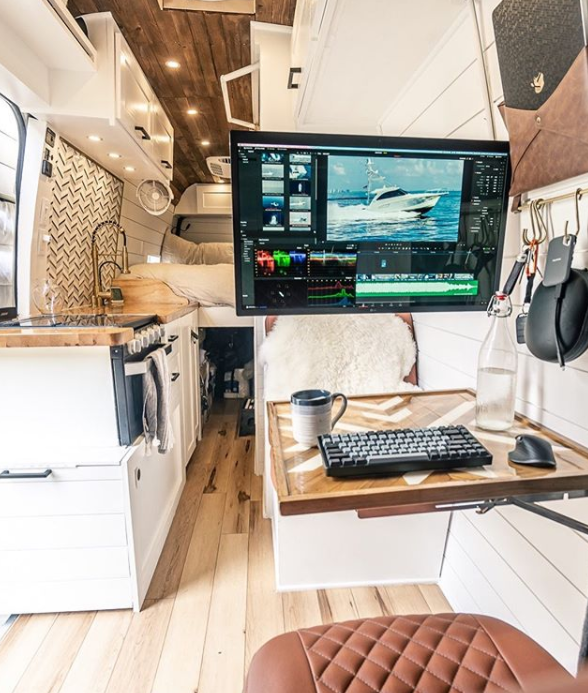 What was the total cost and timeline of your Sprinter van build?
The total cost of our all-in build including the purchase of the van was $30K. From purchase to completion, it took Jake about 9 months. He took his time in learning every aspect of the build process from electrical installation to plumbing. He did a lot of body and mechanical work to the exterior of the van and even taught himself how to weld in order to build brackets that hold our grey water tank underneath. Jake is also a huge deals guy, so everywhere Jake could make a deal or save a little money during the build process, he did.
Tell us about your amazing shower setup and how you like it.
Our shower is nicer than any shower we have ever had! It has white subway tile and designed with an open wall concept so that we can take full advantage of the space while using the shower. We have an RV extending curtain rod that pulls out so that our shower curtain fully extends into the open space allowing us to have full range of motion with our arms while washing our hair; game changer!
The concept is brilliant for utilizing every inch of space. Our shower/bathroom is also equipped with a Nebia by Moen Spa Showerhead that conserves water for us. We use a C Head composting toilet that drains into our grey water tank underneath the van. We love the luxury of taking relaxing showers in our sprinter van build after a day on the road!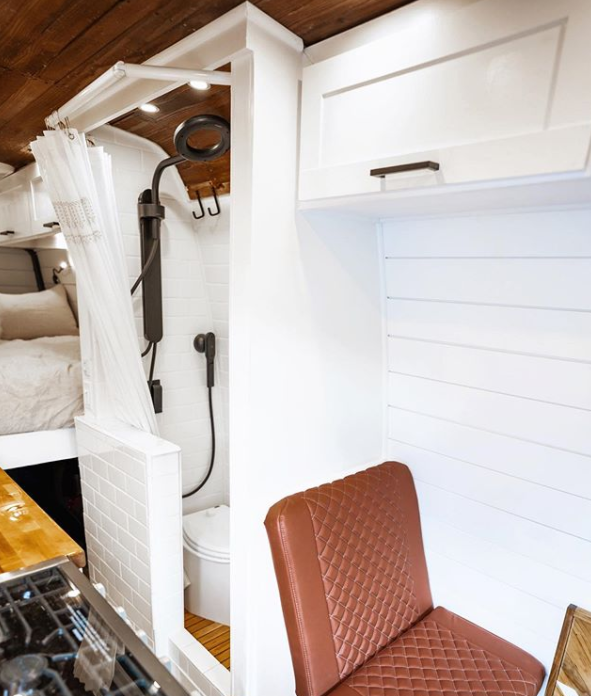 What is the biggest advice you can give someone just starting?
To just do it! Starting is the hardest part. There's always going to be those emotions of fear and self-doubt that creep into your head and make you question whether or not this is the right decision. But, if something scares you, it's probably worth doing.
There's a quote that we love, "Everything you've ever wanted is on the other side of fear". That couldn't be more true. We'd also say that if this is your dream, don't listen to what other people have to say about it. You know yourself better than anyone. Just take it one step at a time, put in the work, ask for help when you need it, and before you know it you'll be living a life you've always dreamed of.
Why'd you choose a van over another rig? Why THIS specific van?
We knew we needed a lot of space to live life on the road because we have two large dogs, but we also wanted to be super mobile. As a result, we immediately ruled out a bus as they're harder to maneuver and not as stealthy as we wanted to be. We wanted to be able to park anywhere without too many issues.
An extended sprinter van allowed us to have that extra space without sacrificing mobility. Our specific van is a 2008 Mega Roof Extended Sprinter Van. Not only do we have the extended model, but we have the additional headspace which is a total gamechanger! The interior height of our Mega Roof spans 7 feet after the build which has allowed us to have a crazy amount of storage space. The Mega Roofs are hard to find, so they also have a great resale value. We knew we needed to have it when we saw it and couldn't imagine van life without the extra room for us and our dogs.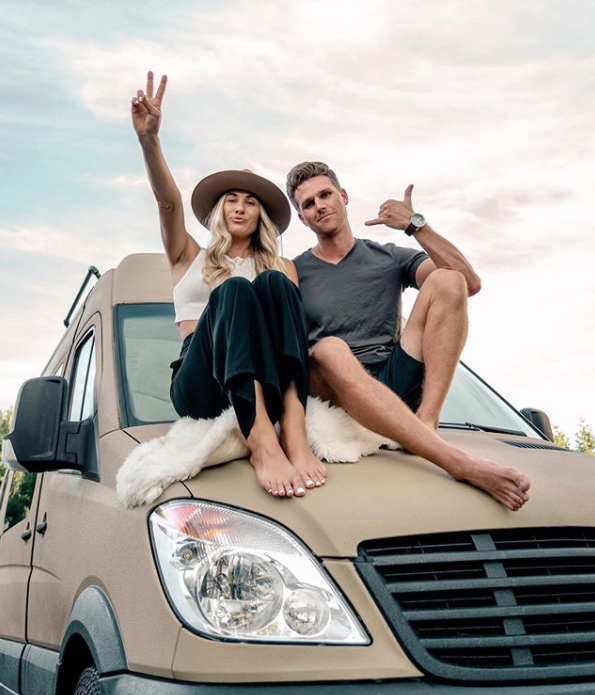 What are some of your favorite features of your sprinter van build?
Honestly, we are overall obsessed with our entire layout and the design of our build. It truly is the perfect set up for us and our fur babies.
My (Heather's) favorite features are the kitchen and storage. I love to cook and we make almost every meal so Jake designed the entire kitchen area with me in mind. We have a three-burner propane stove and oven by Furrion, a 23-inch sink, and plenty of prep space. The storage in our sprinter van build is unreal. We have all overhead cabinets throughout, a bookshelf behind our queen-sized bed, drawers, under sink storage, a spice rack, storage above our cab, a full garage area, and a seat that doubles as storage. Let's just say I love having my things with me while we're on the road.
Jake's favorite features are the hidden slideout Dometic fridge that he welded and custom-fitted underneath our stove. The dude loves his snacks! He also loves his office area that comes together when the driver seat swivels around and the custom table mounted to our wall flips up. He has a 27 inch LG 5K Monitor that's mounted on our wall to complete the ultimate remote office space.
How did you guys meet? Are you traveling full-time?
We met freshman year of college at Florida Atlantic University, Hoot Hoot! Just a couple of 18-year olds with no idea what life had in store for us. We've been together for 10+ years now and couldn't imagine life any other way. It's been a blessing to be in love with your best friend and it definitely makes life way more fun. We are traveling full-time now and are trying to soak in all of these moments of life on the road before we settle down and have a family of our own (not that that will stop us from exploring). We've seen so many people with kids on the road and it's so inspiring!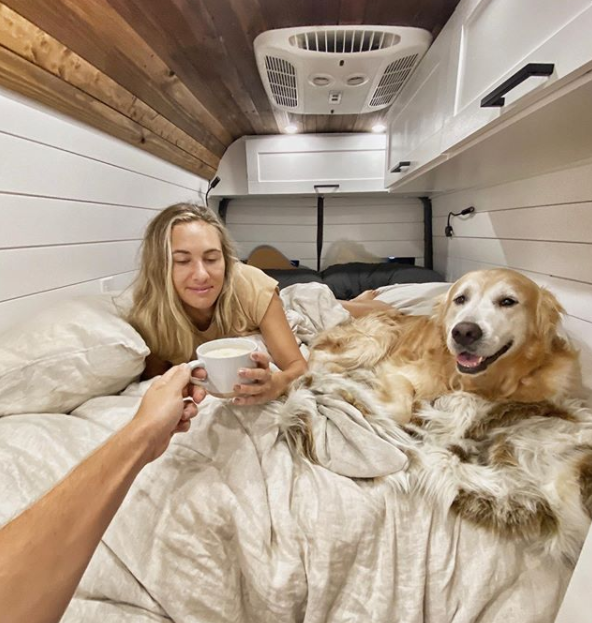 What is the most challenging part of living on the road? What about the most rewarding?
The most challenging part about living on the road is giving up your safety net that a normal home provides. You no longer have an unlimited supply of water, there's only so much room in your fridge for food, and your surroundings are always changing. There's definitely a transition period when you first move into a van. It takes time to adjust to the space and your new sense of normal.
People are always saying that the van life highs make the van life lows worth it and we couldn't agree more. The most beneficial part about van life is being able to adventure to new places and experience new things every day. The freedom that van life gives you is priceless.
Want to keep following along with Heather & Jake as they travel the country in their DIY sprinter van build?
You can follow Heather and Jake throughout their van life adventures on:
Instagram (@goandlivefree)
https://www.goandlivefree.com/